Six-party talks may open next month
( 2003-11-11 15:53) (chinadaily.com.cn/cnn)
A senior Chinese envoy met top South Korean officials in Seoul to try to work out a schedule for a new round of multilateral talks with North Korea.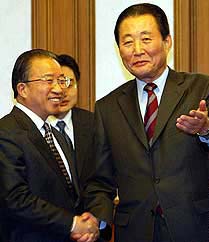 Dai, left, shakes hands with Goh during a meeting in Seoul on Monday. [AP Photo]
China and South Korea, North Korea's two closest neighbors and biggest aid donors, hope to persuade North Korea to join them and the United States, Japan and Russia in six-way talks to resolve the nuclear standoff in Northeast Asia.
Chinese Deputy Foreign Minister Dai Bingguo met South Korean Foreign Minister Yoon Young-kwan and other officials on a trip that is part of Beijing's efforts to maintain momentum in its nuclear-crisis diplomacy.
Asked by reporters on Monday about the likely date of the next round of talks, Dai said: "We are in the process of negotiating together. We will officially announce it when it is agreed upon."
In another development, China's Foreign Ministry spokesman Liu Jianchao said Tuesday a second round of six-party talks on the North Korean nuclear crisis could be held before the end of the year.
"China hopes the next round of six-party talks will happen as early as possible," foreign ministry spokesman Liu Jianchao told reporters at a regular press release in Beijing.
"At the same time, we think that if all sides make active efforts and all their efforts go smoothly, and if the differences between the sides can be narrowed effectively, there is hope the next round of six-party talks can be held before year's end."
The two Koreas, the United States, China, Japan and Russia held inconclusive talks in Beijing in August.
Since then, North Korea has said it is prepared to use what it calls its nuclear deterrent, but only in self-defense.
But the North and the United States also appear to have narrowed their differences over the crisis that emerged in October 2002 with U.S. revelations of a secret North Korea uranium enrichment scheme that violated major non-proliferation agreements.
U.S. President George W. Bush said last month the United States and its partners were all willing to sign a document, not a treaty, declaring "we won't attack you" so long as North Korea agreed to abandon its nuclear ambitions.
North Korea initially dismissed the Bush proposal as "laughable," but said later it was prepared to consider it.
Dai, who played a key role in arranging the previous six-way talks, was quoted by South Korean media as telling Yoon that the U.S. security offer should be taken seriously. Dai also said North Korea made a difficult decision to accept talks.
Dai flies to Japan on Wednesday for a five-day visit.