Clinton joins China summit on AIDS, SARS
( 2003-11-11 10:01) (Agencies)
China brought together scientists, government leaders and even former President Clinton on Monday to battle the health threats most urgent to itself and to big swaths of the world ¡ª SARS and AIDS.
Clinton praised the Chinese government for its decision to help poor AIDS patients receive treatment. And, he told a symposium at Tsinghua University, the quick spread of SARS around the world demonstrated how countries and companies simply must collaborate to fight disease.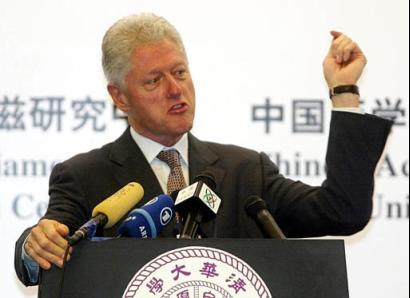 Former U.S. President Bill Clinton speaks at a symposium on SARS and AIDS in Beijing Monday, Nov. 10, 2003. Clinton praised the Chinese government for its decision to help poor AIDS patients receive treatment and said the SARS epidemic demonstrated dramatically how countries and companies must collaborate to fight disease.[AP]


"A sneeze in Hong Kong led to a quarantine in Toronto," he said. "We cannot escape each other's fate."

Clinton said anti-AIDS drugs must become more affordable and it was unconscionable that people across the world were dying because they couldn't pay for treatment.

"This medicine issue is an international scandal," Clinton said. "Money shouldn't determine who lives and dies from AIDS."

Last week, Chinese Executive Vice Health Minister Gao Qiang said thousands of poor HIV and AIDS patients would receive free AIDS treatment, starting with 5,000 this year. By 2008, the number will rise to 40,000 patients, said Zhang Fujian, director of the National HIV/AIDS Clinical Task Force, speaking at Monday's symposium.

Clinton said such initiatives could help ensure China's efforts to make economic progress aren't undermined. "China has come too far to see the future of millions of people derailed," said Clinton, whose eight-year presidency ended in 2001.

New HIV infections in China have been growing annually by about 30 percent. Chinese officials and the United Nations warn that 10 million people could be infected by 2020 without more effective prevention. About 1 million are already infected.

Clinton said Beijing, with its progress in beating back SARS, is in a unique position to bring about change. "The Chinese are famous for good planning," he said, adding: "AIDS kills more people in two hours than SARS killed in total."

Beijing was criticized for its initial reluctance to inform the world about severe acute respiratory syndrome, which surfaced in southern China late last year and killed 774 people worldwide before subsiding in June. In China, 349 died.

Beijing has also been slow to tackle AIDS, said symposium organizer Dr. David Ho, executive director of the Aaron Diamond AIDS Research Center in New York. He called on leaders to act immediately.

Grass-roots anti-AIDS efforts are growing in China, but there needs to be a clear plan from the central government "so people within the provinces can grab onto that and have their marching orders," he said.

"A large and comprehensive societal response is in order," Ho said. "If there is no health, there is no prosperity."

That's a message sure to reach the new generation of Chinese leadership, installed this year. It has placed a premium on creating a "well-off society" and raising living standards.

But Beijing's slow reaction to SARS showed it has neglected health care and the welfare of individuals while pursuing fast economic growth for the country overall, said Hu Angang, director of Tsinghua University's Center for China Study.

"The government has to transform from a developmental government to a public service government," Hu said. After all, poor health undermines growth, he said, pointing out that the SARS outbreak shaved about 0.7 percentage points off gross domestic product for the year.

While HIV in China is mostly confined to intravenous drug users and people infected by the buying of tainted blood, it will soon explode in the general population unless people practice safe sex, said Joan Kaufman, director of Harvard University's AIDS public policy training program.

"It really is breaking out into a sexual epidemic that is beginning to accelerate," she said.

Hu, addressing this point, singled out China's 100 million migrant workers, many of them men who travel to the cities for seasonal work while their wives remain in the countryside. "We have to give consideration to this population group so they are not excluded from public policy," he said.