Mother's mission gives others hope
( 2003-11-10 23:42) (China Daily)
Linda Wells, an American mother of a critically-ill child adopted from China, has once again found support in her fight to save her daughter and other aplastic anemia patients.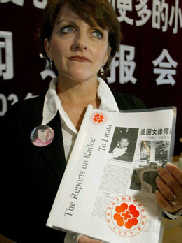 Linda Wells, an American mother of a child adopted from China, appeals to the public in Beijing yesterday to help her seriously ill daughter Kailee find a bone marrow match. [China Daily]

The 50-year-old lawyer from New Mexico of the United States yesterday said she was encouraged to see that the databank of potential bone-marrow donors in China had expanded drastically since February.

Wells made her first failed mission to China in February trying to find a bone marrow match for her daughter Kailee. She is now in Beijing again making a last-ditch effort for the six-year-old, as well as for millions of other similar patients.

Wells adopted Kailee, who was abandoned as a baby in 1997, from Changde of Central China's Hunan Province. Kailee was diagnosed with fatal aplastic anemia last year. Doctors said a transplant is her only hope of survival.

"The Chinese volunteers and Red Cross societies have never given up their efforts to help Kailee,'' said Hong Junling, director of the Hematopoietic Stem Cell Donor Programme Administration Centre of the Red Cross Society of China.

Partly due to the centre's publicity, the number of donors on the Chinese bone marrow registry has surged from 50,000 in February to 83,000 at present, the director said.

As the chances of finding a suitable match in the general population are slim -- up to 10,000 to 1 -- experts said the bigger the bone marrow registry, the higher the odds that Kailee will find a match.

Despite the modest size of the databank, the Chinese Red Cross staff found 15 samples that could prove to be a 9 out of 10 match for Kailee, based on the preliminary serology typing, according to Hong.

However, Zhang Zhixin, another official of the centre, said these samples may only be theoretically helpful.

Although the chance of finding a perfect match for Kaileeis remote, Wells and Hong said they will not give in to statistical probabilities.

"The first time I was here my concern was solely to find a match for Kailee,'' Wells said. "But now we know that there are so many people that are waiting and going to die without a transplant. Our mission now is different.''

Together with Hong's centre, the Wells' are appealing for more volunteers to register their bone marrow -- not just for Kailee, but for many other people who need bone marrow transplants to survive.

Yang Boxiong, 21, a student of the Beijing-based China Youth University for Political Sciences, was among a dozen people who registered their bone marrow types by having a blood test at Hong's centre yesterday.

Linda Wells said: "We are certain that others who are desperately looking for a match will find that one person who is able to provide them the 'gift of life.'''

After her Beijing trip, Wells will also go to Changsha, capital of Hunan, Hong Kong, Taiwan and Singapore to continue her quest.