TCL: Bursting out of China
( 2003-11-10 14:11) (BusinessWeek Magazine)
It's tea time at a phone factory in the southern Chinese city of Huizhou, and hundreds of employees are taking a break from assembling cellular handsets for one of China's hottest electronics companies, TCL Corp. Some of the workers gather next to the windows and chat. Others simply put down their heads and nap at their assembly-line spots. A few stand watching a brave soul with a karaoke machine belt out an off-key tune. It's a rare moment of frivolity: Executives cite TCL's hard-driving culture as one of the reasons the outfit is a top producer of consumer electronics in China. Tomson Li, TCL's chairman and chief executive officer, boasts of the long hours his employees put in. Signs posted next to production lines encourage workers to push themselves to do even more. "If you don't diligently work today," warns one ominously, "you'll diligently look for work tomorrow."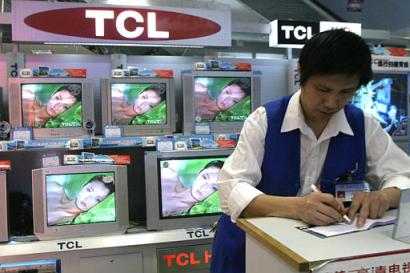 A Chinese salesperson fills in a receipt near a display of television sets manufactured by TCL International Holdings Ltd. at a shopping mall in Beijing Wednesday, Nov. 5, 2003. [AP]

TCL's rivals worldwide would do well to heed that warning. The company's TVs, DVD players, PCs, and other gadgets have made it one of the most prominent Chinese brands. Now, TCL is looking to become a global player. On Nov. 3, TCL announced it was forming a joint venture with French electronics maker Thomson to create one of the world's largest producers of televisions.

POWER PARTNERS

For TCL, Thomson's brand names -- which include RCA and Thomson -- and its market presence were the keys to the deal. Through its sales operations in Europe and the U.S., Thomson sold 7.4 million TVs last year. TCL wants to use that network to extend its own reach. Last year, TCL earned $180 million on sales of $3.8 billion, with earnings up 110% and revenues up 51%, compared with 2001. More than 70% of its sales are inside China, where TCL is one of the top names in electronics. Its cell phones, which the company only started to build a few years ago, are the second-biggest seller in the world's largest mobile-phone market. TCL's strategic investors include Toshiba and Philips; its technology partners include Microsoft and Intel.

The Thomson joint venture is one of several deals that TCL's entrepreneurial management is pushing. The 49-year-old Li, who founded the company as a producer of cassette tapes in 1981, says Chinese companies must take advantage of their low-cost manufacturing base and immense home market to become world players. "In consumer electronics, Chinese enterprises will be the next major supplier," explains Li. "So TCL should grab this opportunity."

For its part, Thomson was just bowing to the inevitable. As recently as 1996, Thomson, then owned by the French government, was so awash in red ink that Paris considered giving it away to South Korean conglomerate Daewoo Corp. for a symbolic one franc. Since then, Thomson has privatized and moved into the more profitable business of providing digital movies to Hollywood through its Technicolor subsidiary. But its consumer-electronics sales have been plummeting, largely because of strong competition from rivals such as TCL. Chinese companies "have changed the reality of the business," says Thomson CEO Charles Dehelly. "We have to adapt." TCL will own two-thirds of the joint venture, which will combine the pair's TV and DVD-player assets, worth about $517 million.

ENTREPRENEURIAL EDGE


Tomson Li, chairman and chief executive officer of TCL Corp. [File Photo]

China, of course, already is the leading location for low-cost electronics manufacturing. Now the Chinese want to play in the big leagues. Just as Japan in the 1960s produced Sony Corp. and Korea in the '80s produced Samsung Group, TCL executives are betting that China will soon produce a global giant in consumer electronics. "We are determined to become the Chinese Sony or Samsung," says Vincent Yan, TCL International chief financial officer.

That might seem a bit far-fetched right now. For all of Sony's recent woes, it still has $62 billion in sales, while Samsung boasts $33.8 billion. TCL is a midget by comparison. But with China home to more cell-phone users than anywhere else on earth, not to mention consumers of millions and millions of PCs and DVD players, companies like TCL enjoy a tremendous home-field advantage that could help them narrow the gap. "They can reach critical mass because of their access to this incredible market," says Ira Kalish, global director at Deloitte Research in Los Angeles. "That puts them in a position where they can start to think seriously about technological innovations."

TCL has another edge: It is far more entrepreneurial than other Chinese companies with global ambitions. Its Huizhou headquarters is in the heart of the Pearl River Delta, home to many of China's most dynamic businesses. Li may have heavy government backing -- the city of Huizhou is the biggest shareholder in TCL -- but he still runs the company more like a startup, says H.C. Ho, president and CEO of Sampo Group, a Taiwanese consumer-electronics maker and TCL rival. Li "is very aggressive, very dynamic," says Ho, who talked to Li about collaboration before teaming up with rival Haier. "He can make a decision quickly, unlike other Chinese executives."

Winning control of Thomson's TV business fits with Li's strategy of using existing brands to penetrate Western markets. While other Chinese companies aim to introduce their own names overseas, TCL execs say they don't want to spend the huge sums required to persuade skeptical Western consumers to try out a new brand. In Europe and North America, the strategy is to find distressed brands like Thomson's RCA, once part of General Electric Co. TCL last year bought the assets of Schneider Electronics, a bankrupt German company, and in April of this year took control (GE )of GoVideo, a small producer of DVD players and VCRs in Scottsdale, Ariz. "It's too late to introduce a new brand to the market," says M.J. Anh, CEO of GoVideo and managing director of TCL Overseas Holdings Ltd. He estimates it would cost $300 million a year to promote a new brand in the U.S.

COVERED WITH JEWELS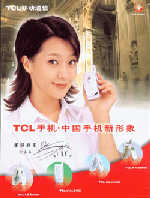 A well-known TCL ad featuring the agrin South Korean pop star Kim Hee Sun with a TCL handset in her hand. [File Photo]

TCL executives say they would rather spend their money on things such as research & development. The company, which got its start in cell phones by assembling parts made elsewhere, is now designing more of the components itself. That's why TCL is on a hiring spree. George Guo, vice-president for corporate strategy and investment at TCL International, TCL's Hong Kong-listed subsidiary, says that the R&D staff will number 500 -- up from 60 now -- by yearend. TCL plans to spend 5% of its income on R&D by 2008, up from 3% today. In the crucial area of mobile phones, TCL has no shortage of partners eager to help: Its engineers are working with counterparts from Ericsson, Intel, Microsoft, Motorola, and Qualcomm to design handsets. When TCL first started selling cell phones in 2000, "it was just a joke" to many in the industry, recalls Craig Watts, managing director of Norson Telecom Consulting in Beijing. "But the technology barriers were not as high as people thought, and TCL had an advantage because it is in China."

TCL's biggest design coup had nothing to do with technology. Shortly after launching its cellular business in 2000, it unveiled a model encrusted with jewels. It was an immediate best-seller. "In China, handsets are more and more about fashion," explains Guo. "When everyone's quality is good, what do people look at? Style." Will foreigners go for TCL style? Guo hopes so. The company sold 6.23 million phones in 2002, but only a quarter-million of them outside China. Guo predicts that exports will "double or triple" this year and that TCL's low-cost manufacturing advantage will drive up total sales to 9 million.

As they push TCL farther beyond China's shores, Li and his team are taking some big risks. While the company looks to Sony as a role model, Sony itself is struggling. The electronics business has gotten tougher, in part because Chinese factories transform just about everything into a low-cost commodity. TCL is diversifying into PCs -- it recently bought control of Chinese notebook-computer maker Beijing Youbang Online -- even though few companies other than Dell Inc. (DELL ) are managing to make solid profits from the PC business. And the company's handset business is facing trouble at home; on Oct. 30, TCL announced third-quarter earnings were down 13% from the quarter a year earlier, to $17.5 million, due to a sharp drop in net margins as the SARS outbreak led to big pileups in inventory.

And in its eagerness to go abroad, TCL may have given away too much to Thomson. J.P. Morgan Chase & Co. technology analyst Anuj Sehgal estimates that TCL will have to put up $130 million in working capital, vs. zero for Thomson. "We don't think it's very positive," says Sehgal. Investors apparently disagree. TCL's stock price on the Hong Kong exchange jumped 25% in anticipation of the deal with Thomson, though it has since fallen back.

TCL also faces political obstacles, given that its worldwide debut comes when manufacturing jobs in the West are heading to China and U.S. politicians and manufacturers are criticizing Beijing for alleged unfair trade practices. With China becoming a hot-button issue ahead of next year's U.S. Presidential election, TCL won't have many fans among American policymakers. "Protectionism is growing in the U.S.," complains Li.

Yet TCL execs say they have little choice but to keep looking overseas. The Chinese market for TVs, DVD players, and cell phones is intensely competitive. Profit margins are thin and getting thinner. The price wars in China are "brutal," says CFO Yan: "We don't want to compete this way forever." That means TCL will be considering other opportunities to expand beyond China. Consumer-electronics companies worldwide had better be looking over their shoulders. This new Chinese dynamo may be gaining on them.
Go to Another Section
Article Tools