Two killed after seizing Manila air control tower
( 2003-11-09 10:13) (Agencies)
Philippine armed forces early Saturday killed two armed men, including the former head of the nation's Air Transport Office, who had seized the control tower at the nation's main airport, a government official said.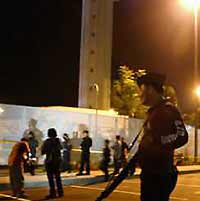 A Philippine policeman stands in front of the control tower at Manila's international airport in the early hours of November 8, 2003. [Reuters]

A third person involved in the takeover also was believed to have been killed.

"The situation has been neutralized," said National Security Adviser Roilo Golez. "National police assaulted the position of these three ... since they were considered armed and dangerous."

The takeover had begun shortly after midnight when Panfilo Villaruel, a former pilot who once headed the Air Transport Office, seized the control tower with two others.

In a live interview on radio during the siege, Villaruel was complaining of corruption in the government when gunfire broke out. He said his men were being killed and that he was ready to surrender.

"In the middle of a live interview, we could hear the gunshots over the radio that were coming through his phone," said Reuters Bureau Chief John O'Callaghan. "It was just a staccato burst really."

Golez said Villaruel was among the two dead. He said he believed the third person was also killed, but he was awaiting confirmation of that.

He said the "situation was placed under control by Special Forces" around 3 a.m. Authorities are investigating the motive behind the takeover, but Golez said, "this appears to be a very isolated" event.

The Air Transport Office for which Villaruel once worked handles all of the facilities at the airports throughout the nation, including the air control towers.

The last flight of the day had already taken off when the incident began.