No scare over grain price hike
( 2003-11-05 23:53) (China Daily)
A new round of inflation will not be set off by the recent hikes in the prices of two of China's food staples -- grain and edible oil, according to economists.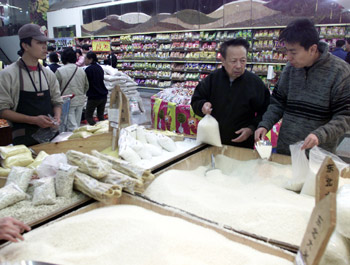 Beijing residents buy rice at Wonderful supermarket November 5, 2003.[newsphoto.com.cn]
Since mid-October, China has witnessed rapid price rises for its farm products across the nation.
The wheat price rose an average of 40 to 80 yuan (US$4.8-US$9.6) per ton in major wheat production areas between October 16 and October 19.
The corn price rose 80 to 120 yuan (US$9.6-US$14.5) per ton in North China during the three days, while the prices for rapeseed and rice rose 20 per cent and 10 per cent respectively.
The price of edible oil rose as much as 86 per cent in some areas.
Past experience suggest a price rise of grain would spearhead a round of inflation. Many people started to worry that China could once again be plunged in the depths of inflation as witnessed in the mid-1990s.
Qi Jingmei, a senior economist with the State Information Centre specializing in consumer prices, said the hike in grain will undoubtedly push the overall consumer price higher.
"A higher grain price will result in a higher food price, an important component for the consumer price index (CPI) -- the key inflation gauge,'' Qi said.
It will also lead to higher costs for other commodities indirectly, resulting in another round of price rises, she said. However, it will not result in a new round of inflation.
Zhang Liqun, a senior macro-economy researcher with the State Council's Development Research Centre, said although people's spending on food still accounts for a large proportion of their overall expenditure, the level has dropped more than 10 per cent compared with 1993-95.
The impact of food price rises on the overall CPI has begun to weaken, Zhang said.
An increased supply capacity will also restrict the CPI from rising too much, he said.
"Compared with 1992-93, the country's supply capacity is strong enough to meet the demand of market expansion,'' Zhang said.
Inflation in 1993-95 was mainly because of the lack of basic products resulting from weak agricultural and industrial sectors, he said.
At that time, the country was in short supply of food, raw materials and power, and prices rose quickly.
But since then, the country's economy has moved past the supply bottleneck.
An investigation by the Ministry of Commerce on the demand and supply situation of the country's 600 major products shows 473 products are over supplied and none are under supplied.
"More importantly, the foundation for supply growth has improved,'' Zhang said.
The country is capable of providing sufficient funds, labour and technology to increase supply capacities, he said.
Companies' reactions to market demands have also been rapid.
Since the beginning of this year, the supply of steel, building materials and power has become tight.
As a result, investment in all three areas has been growing rapidly. Steel imports also grew quickly.
Products such as cars, houses and electronic products, which have witnessed strong demand over the past several months, were not under supplied, Zhang said.
The prices for a majority of the products did not rise. On the contrary, the prices for some products dropped.
The present grain price rise was mainly because of a reduction in production which resulted from an adjustment of grain structure and natural disasters such as flooding and droughts, Zhang said.
The summer grain production dropped 2.4 million tons this year compared with last year to 96.22 million tons.
Grain experts say the total output for 2003 will be less than last year.
But Zhang said the supply base of grain in China is relatively good.
"The grain reserve is expected to be at 200 million tons this year, which will be higher than the 125 million tons for ordinary years,'' he said.
Meanwhile, the supply will grow rapidly due to the booming demand, he said.
"The prices for grain and food won't rise for a long time and (they won't rise) by big margins,'' Zhang said.
During the first nine months of this year, the CPI rose a year-on-year 0.7 per cent.
"The CPI for 2003 and next year will be about 1 per cent,'' Zhang said.
This means deflationary pressure has been easing, according to both Zhang and Qi.
"This is because domestic consumption demand has been stimulated,'' Zhang said.
Between 1998 and 2002, farmers' per capita income rose 3.8 per cent annually, while urban residents' per capita income rose 8.3 per cent.
Savings deposits by urban and rural residents had risen from 4.6 trillion yuan (US$554 billion) in 1998 to 8.7 trillion yuan (US$1 trillion) in 2002.
Along with housing and social security system reforms, people's expenditure expectations for the future became more rosy, Zhang said.
The fast growing economy also increase people's expectations for income growth in the future, he said.
As people's income levels increase steadily, their expectations improve and they begin to buy large items such as houses and cars, rather than smaller commodities, Zhang said.
During the past five years, living space for urban residents has increased 22 per cent, while home-use computers have grown by 600 per cent.
Fuelled by the upgrade of consumption demand, investment will undoubtedly grow rapidly, Zhang said.
The Chinese economy has entered a new development period, he said.
Yuan Gangming, a senior economist with the Chinese Academy of Social Sciences, said the government is willing to accept a CPI rise of up to about 3 per cent every year, because it is seen as helpful.
The moderate inflation can help alleviate pressure for the yuan to be appreciated, he said.