Death toll rises to 20 at Hunan fire
( 2003-11-05 21:28) (China Daily)
All the twenty firemen have been confirmed dead from Monday's fire in Hengyang in Central China's Hunan Province.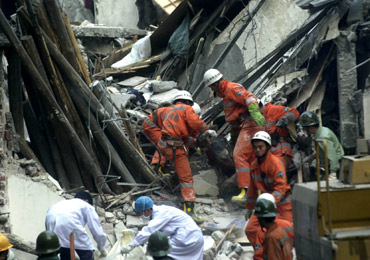 The accident also left 16 people injured, including 14 firemen and four journalists who were reporting on the blaze, said an official in charge of the rescue operations at the site Wednesday.
As of press time, the fire had been extinguished and the body of the last firefighter has been found, while the cause of the fire is under investigation, officials said.
Primary investigations showed the fire might have been caused by merchants who were roasting dried food in the ground floor of the eight-storey building, sources said. The Zhuhui District building was being used for both residential and commercial purposes before the blaze.
Ignoring the warnings of security staff, merchants continued to roast fish, shrimp and dates, local residents said.
The fire broke out at about 5 am on Monday, forcing more than 400 residents to evacuate.
After the fire, all of the residents were withdrawn safely from the building, officials said.
The tragedy occurred as a team of firefighters were trying to extinguish the flames inside the building on Monday morning, when a section of the blazing building suddenly collapsed and left two dead on-the-spot and another 19 buried, officials said.
After the accident occurred, a command centre was immediately set up and more than 1,500 rescue workers from various law enforcement branches and power departments were rushed to the site, officials said.
Being buried for 27 hours, firefighter Jiang Chunmao was rescued from the rubble at 11:13 am on Tuesday, Xinhua said.
According to an eyewitness, rescue workers found Jiang after hearing his muffled calls for help.
Due to a lack of oxygen, Jiang's kidneys were considered to be traumatized and he immediately received emergency treatment, doctors at a local hospital said. Apart from that, a physical examination has revealed Jiang was not seriously injured.