GM gears up its Cadillacs in China
( 2003-11-05 14:00) (Agencies)
Red Flag limos, move over. Cadillacs are on the way.
General Motors Corp said yesterday it plans to boost its manufacturing capacity in Shanghai by 50 per cent to build Cadillacs, expanding its push into the luxury end of the world's fastest growing auto market.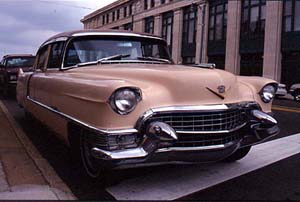 GM, which already markets Buicks and Chevrolets in Shanghai, said it would sell both imported and domestically assembled Cadillacs. To meet rising demand, it plans to expand production capacity at its factories in Shanghai and in southern China.
Building Cadillacs inside China would allow customers to avoid paying high import duties.
"We are excited about expanding our presence in China in order to keep up with the rising demand for vehicles, especially passenger cars," Rick Wagoner, GM's chairman and chief executive officer, said in a statement.
GM did not provide details on its plans for the Cadillac, including which of the eight models it will sell here, how much they will cost or how many the company expects to sell. Competition for China's fast expanding market has been heating up, with GM, Ford, Honda, Nissan, Toyota, Bayerische Motoren Werke AG and DaimlerChrysler AG all recently announcing plans to expand capacity to keep up with explosive demand. Vehicle sales in China soared 30 percent in the first nine months of this year.
GM, which claims an 8.2 percent share of China's vehicle market, says its sales by late September had already surpassed the total for last year, with 267,395 cars sold.
The world's biggest carmaker started with Buicks at the Shanghai plant in 1998 and says it has invested more than US$2 billion in the country through a number of joint ventures, which now make domestic brands as well as Buicks and Chevrolets.
Cadillacs will be assembled alongside Buicks at GM's Shanghai plant, which will hike capacity by 50 percent to 300,000 vehicles by the end of 2005, the company said. The Shanghai factory began round-the-clock production in August for the first time. GM's joint venture plant with Shanghai Automotive Industry Corp and Wuling Automotive in southwestern Guangxi Zhuang Autonomous Region is to increase its annual capacity by 150,000 vehicles to 336,000 by 2006.
Despite soaring sales, analysts already are warning of a glut in production. According to the China Automobile Industry Association, output of domestically made cars will hit 4.3 million this year, while sales are forecast to reach only 1.9 million.