Ties with Pakistan to expand
( 2003-11-04 23:27) (China Daily)
Premier Wen Jiabao said yesterday that China and Pakistan, which enjoy increasingly solid traditional friendly relations, should work to increase bilateral trade volume according to the newly signed preferential trade arrangements between the two sides.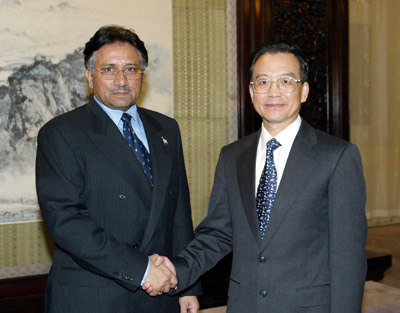 The two countries should do a good job in carrying out the projects in question, which are both under construction and being proposed, so that they can bring economic and social benefits to the two countries at an early date, Wen said at a meeting with visiting Pakistani President Pervez Musharraf.
Wen suggested that the two sides speed up negotiations on other projects financed by China.
According to Wen, co-operation between China and Pakistan in all fields is based on equality and mutual trust, in line with the principle of safeguarding peace and stability, and targetted at mutual benefits and reciprocity.
Based on good political ties, the two sides will expand trade and economic partnership with China's sustained, healthy and stable economic development and growing foreign trade, Wen said.
China is willing to work with Pakistan to carry out the joint declaration they signed on the development orientation of bilateral relations.
Musharraf praised Pakistan-China relations as time-honoured, saying the traditional friendship and mutual trust between the two people would always push forward bilateral relations.
He agreed with Wen on expansion of bilateral trade and economic relations and said China is able to play a key role in promoting regional co-operation in Asia.
Also yesterday, Musharraf said that China has emerged as a positive force for economic stability and progress in Asia and the world at large.
During a 40-minute speech at Peking University, Musharraf looked forward to China's economic engagement in Central and Southwest Asia "similar to its economic and commercial role across the Asia-Pacific".
"China, which has provided assurance and a safety net to Southeast Asian economies when these were shaken by the financial crises of 1997 and 1998, could help accelerate development and bring about economic integration within Asia," he said.
"We must set ambitious targets and pursue our co-operation in economic, commercial and technological fields with utmost vigour."