First a man, now moon for space programme
( 2003-11-03 08:01) (China Daily)
China will launch its first moon-probe within the next three to five years, Chinese space programme officials revealed on Saturday in an interview with the Xinhua News Agency.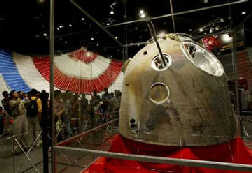 The Shenzhou V space capsule exhibits in Hong Kong November 1, 2003. [Reuters]
Zhang Qinwei, deputy head of a delegation from China's manned space programme's headquarters and general manager of China Aerospace Science and Technology Corp, said comprehensive feasibility studies for the first-phase of the moon-probe programme have been completed and an engineering operations plan has already been drafted.
Zhang said that after successful satellite launches and the recent manned orbital mission, China is prepared for the challenge of a moon probe expedition and other outer space activities.
Zhang said he believes the moon probe will become the third milestone for space technology development in China. A Long March III-A rocket will be employed for the satellite that will probe the moon.
China's moon programme will be divided into three phases. The first will focus on obtaining three-dimensional graphs of the moon's surface, studying the elements of the surface and probing the immediate environment of the moon, he said. The second phase of the programme will send a probing devices to the moon's surface, and the final phase will survey the moon's surface and bring back rock samples.
In a related development, China has been engaged in development of an intelligent robot for use in a moon-probe mission for years.