Bush vows to spur Sino-US military ties
( 2003-10-31 08:51) (China Daily HK Edition)
US President George W. Bush yesterday pledged his support for the development of military ties with China.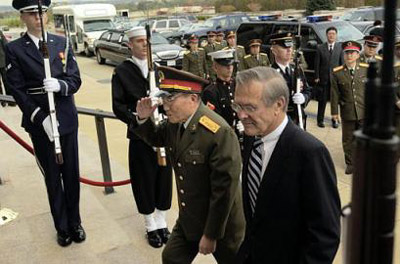 US Secretary of Defense Donald Rumsfeld enters the Pentagon with Chinese Defense Minister Gen. Cao Gangchuan on Tuesday, Oct. 28, 2003. It was the first visit to the Pentagon by a Chinese defense minister during the Bush administration. The meeting was aimed at rebuilding relations soured from the start of the administration by the collision of a Chinese jet and a U.S. spy plane in April 2001. [AP]

He made the vow while meeting Cao Gangchuan, vice-chairman of the Central Military Commission (CMC), State Councillor and Minister of Defence of China, at the White House.

Cao conveyed to Bush regards from President Hu Jintao, CMC Chairman Jiang Zemin and Premier Wen Jiabao, while Bush extended to Cao a very warm welcome and asked him to relay his best wishes to the trio.

Bush said it was a US priority to strive to bolster relations between the two countries and their military forces.

He pointed out that his recent meeting with Hu in Bangkok had yielded positive results and had far-reaching implications.

Strengthened co-operation between the two countries in bilateral and international affairs will propel ties forward, he said.

Bush recalled his meeting with Jiang in October last year and stressed its significance. He was anxiously looking forward to Wen's imminent visit to the US.

Better ties and enhanced co-operation between the two countries is not only mutually beneficial but helps the whole world. The US Government will continue its efforts to cement the bilateral bond, Bush said, adding that he would personally strive to achieve this.

Cao said that the improvement and development of Sino-US relations not only tallies with the fundamental interests of the two peoples, but is conducive to the maintenance of peace, stability and development of the Asia-Pacific region and the world at large.

The meeting between the leaders of the two countries and their reciprocal visits have greatly bolstered the constructive collaboration of the two countries. Thanks to the concern and support of the State leaders and their joint efforts, exchanges between the two military forces have been making continuous progress, he observed.

Cao said his Wednesday meeting with Donald Rumsfeld, the US defence secretary, was positive, constructive and fruitful. He believed that the wide-ranging and vital common interests between the two countries and their joint efforts will lead to more development in their military ties.

Bush said he was pleased with the results of Cao's visit and would continue to care for and support bilateral military relations.

Chronology of Sino-US military ties

June 1989: US announces sanctions against China and cancels planned visit by top Chinese military officials.

December 1996: Chinese defence minister delays US visit to end of the year due to US intervention during mainland wargames in Taiwan Straits.

May 1999: US bombs Chinese embassy in Yugoslavia and high-level military personnel exchanges are delayed.

2000: Diplomatic and military ties resume and improve; but hawks in US play hard ball against China and strengthen military ties with Taiwan and Japan.

April 2001: Military exchanges cease again after military aircraft collision and massive US arms sales to Taiwan.

After September 11 Incident: US adjusts diplomatic and military deployments, and the two countries improve relations by joining hands to counter terrorism.

2002-03: The then president Jiang Zemin meets twice with Bush and President Hu visits the US, paving the way for resumption of military exchanges.