Shanghai on track for Expo 2010
( 2003-10-31 07:08) (China Daily)
Almost a year after winning its bid for World Expo 2010, Shanghai's preparations for the event have again impressed the Bureau of International Expositions (BIE).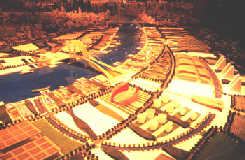 The planned infrastructure and exhibition facilities for the World Expo 2010. [newsphoto.com.cn]
This was the message from Expo 2010 Shanghai China Forum held Thursday.
BIE president Gilles Noghes said, "You have been pursuing this project with the same dedication and perseverance that you demonstrated in the bidding contest which ended in an overwhelming success for China and Shanghai.''
To ensure a successful Expo, he said there must be total support from the local community, all of China, and widespread involvement by the international community.
"Both the national and international promotion of Expo has been well done,'' Noghes said.
Thursday's forum, which is part of Shanghai's promotional strategy, attracted over 300 participants from 15 countries as well as from neighbouring cities.
Deputy governor of Jiangsu Province Wu Ruilin said the world's fair would bring enormous opportunities for not only Shanghai but the whole country.
His province, which borders Shanghai and is part of the Yangtze River Delta -- one of China's most dynamic economic areas -- will actively support and participate in the event.
According to Noghes, it is too early to say what Shanghai will make of World Expo 2010 because the master plan has not been released. But he said the good will Shanghai has shown suggests it will be "a great success.''
The forum discussed the Expo and urban development, scientific innovation, cultural diversity, media promotion and other issues. It will be held every year till 2009.
Chen Liangyu, Shanghai's party secretary, said the forum allows all BIE members to review, study and recommend changes to the Expo.
"I believe the spirit and essence of the World Expo will be fully realized and improved in Shanghai,'' he said.
The Bureau of Shanghai World Expo Co-ordination was also launched Thursday. It replaces World Expo 2010 Shanghai Office and is responsible for Expo preparations.
The creation of the bureau marks a new stage in the planning for Expo 2010, said mayor Han Zheng at the launch.