China, EU sign agreement on Galileo
( 2003-10-31 06:29) (China Daily)
China and the European Union (EU) Thursday inked a co-operation agreement on Galileo, the Civil Global Navigation Satellite System developed by the EU.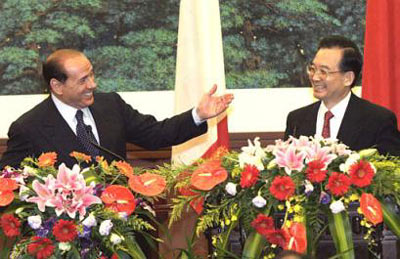 Italian Premier Silvio Berlusconi (left), who holds the rotating EU presidency, comments near the end of a joint news conference next to Chinese Premier Wen Jiabao and European Commission President Romano Prodi at the Great Hall of the People in Beijing, October 30, 2003. Berlusconi arrived in Beijing on Thursday for the sixth China-EU summit. [AP Photo]
During the sixth China-EU summit held Thursday, Premier Wen Jiabao and Prime Minister Silvio Berlusconi of Italy, which holds the rotating European Union (EU) presidency, witnessed the ceremony of the official signing of the agreement and of other two documents on bilateral co-operation in industry and tourism.
Wen called the three agreements a "milestone'' in the development of Sino-EU relations. Berlusconi said the three documents would open up new horizons for co-operation and demonstrate EU determination to strengthen co-operation with China.
"This (the sixth China-EU summit) is a very important step ahead which shows a more mature, stable and strategic relationship,'' Wen told reporters in a press conference.
The Galileo agreement provides for co-operative activities in satellite navigation covering a wide range of sectors, notably science and technology, industrial manufacturing, the service industry and market development.
Galileo, scheduled to be operational by 2008, is designed to encircle the globe with 30 satellites in medium Earth orbit, with 27 operational satellites and three in reserve, plus two control centres on the ground.
Both Chinese and EU leaders expressed their satisfaction over the agreement to establish a dialogue on industrial policy and also expressed their confidence in the expansion of China-EU trade and economic ties in the future.
Wen and President of the European Commission Romano Prodi told reporters that they wish to realize the goal "to become each other's largest trade and investment partner.''
To realize the goal, Wen said China has set specific aims: for bilateral trade volume to reach US$150 billion by 2007, and US$200 billion by 2013.
Currently, China and the EU have become each other's third largest trade partners. The EU is also the fourth largest foreign direct investment source and the largest technology import source for China.
When asked about whether to grant China "complete market economy status,'' Prodi said that there are no "major differences'' between the two sides, and that he himself was very "confident'' about the prospects.
In order to further China-EU relations, during yesterday's meeting Wen put forward four suggestions: to maintain high-level exchanges; to deepen trade and economic co-operation; to establish efficient co-operation mechanisms and to dispose of barriers that block healthy development of relations.
Berlusconi said the EU considers China an important force on today's world stage as well as an indispensable partner in maintaining world peace and stability, and that the EU is willing to strengthen co-operation with China.
Prodi said the EU hopes to expand co-operation with China in finance and investment.
High Representative for the EU Common Foreign and Security Policy Javier Solana said the EU and China, faced with a complicated international situation and many severe challenges, have identical views on many major international issues. They both uphold the belief that international disputes should be resolved through peaceful means.
Earlier yesterday, President Hu Jintao met the EU officials. Hu said that a united and powerful Europe will not only serve the interests of the European people, but will also be conducive to the peace, stability and development of the entire world.
China supports the integration process of Europe, and hopes the EU will play an even greater role in maintaining world peace and stability, and contributing to the prosperity and development of the world, said Hu.
Both sides also touched upon regional and international issues of common concern. In a joint press statement released after the summit, they reaffirmed the need to promote peace, security and sustainable development and to strengthen the UN role in that process, and called for an early handover of sovereignty in Iraq.
"Both sides expressed their support for efforts to promote non-proliferation of WMD (weapons of mass destruction) on the Korean Peninsula,'' the statement said.