N. Korea agrees to talks, US 'encouraged'
( 2003-10-31 06:22) (chinadaily.com.cn)
The Bush administration said it was "encouraged" by the reports Thursday of North Korea's agreement with China to restart the six-party talks, aimed at "resolving the concerns of both sides: North Korea and the United States".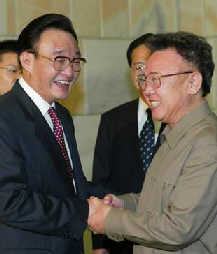 Top legislator Wu Bangguo is greeted by Kim Jong-il, general secretary of the Central Committee of the Workers' Party of Korea, in Pyongyang October 30, 2003. [Xinhua]
On Thursday, North Korean top leader Kim Jong-il, in high-level talks with China's No 2 official, top legislator Wu Bangguo, agreed in principle to restart the six-party negotiations in China's capital Beijing. Kim also accepted an invitation from Chinese President Hu Jintao to make a state visit to China.
Diplomats are upbeat about a second round of Beijing talks, joined by North Korea, the United States, South Korea, Russia, Japan and host China, will most probably be held before the end of this year. A breakthrough to end the year-long standoff over Pyongyang's nuclear program is now widely expected.
A Chinese Foreign Ministry spokesman said in Beijing on Thursday that China appreciates the positive attitude of Pyongyang towards restarting talks. Beijing hopes the concerned states "be faithful to the talks", and grasp the hard-won opportunity to conduct sincere negotiations in order to find out a political solution to the nuclear issue. The spokesman also said that China will continue to do its part for a peaceful solution.
Last week in Bangkok, Thailand, following a summit talk with Chinese President Hu Jintao on the sideline of the annual APEC leaders meeting, US President George W. Bush signaled a shift in US policy, saying he would be willing to extend a written, multilateral security guarantee to North Korea, in exchange for the dismantling of Pyongyang's nuclear weapons program.
Also, Japan, South Korea, the United States and the European Union have agreed to assist North Korea's faltering economy.
Kim's latest positive response to Bush underscored China's increasing weight in the diplomatic effort being waged by Beijing and Washington, along with Russia, Japan and South Korea, to end a crisis, the Washington Post reported on Thursday.
"Both sides agreed in principle that the six-way talks should continue; China and North Korea support the idea of a peaceful resolution to the North Korean issue through dialogue," China's CCTV reported.
North Korea's official KCNA news agency confirmed in a statement its "willingness to take part in future talks," but only under certain conditions. It referred to "simultaneous actions" that must occur along with any agreement to end its nuclear program.
North Korea has previously stated that those actions must include economic and humanitarian aid, establishment of diplomatic ties and other assistance.
In exchange for economic and security assurances, North Korea has said it would declare its willingness to give up nuclear development, allow nuclear inspections, give up missile exports and finally dismantle its nuclear weapons facilities.