Cao, Rumsfeld discuss security issues
( 2003-10-30 06:23) (China Daily)
Chinese Defence Minister Cao Gangchuan met US Defence Secretary Donald Rumsfeld at the Pentagon on Tuesday (local time) for talks on international and regional security, military ties and other issues of common concern.
Cao, who is also vice-chairman of China's Central Military Commission and a state councillor, arrived here on Monday for the first high-level visit by a Chinese defence minister since 1996.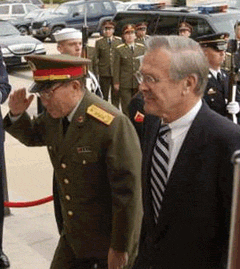 U.S. Secretary of Defense Donald H. Rumsfeld (R) escorts Chinese Minister of National Defense General Cao Gangchuan, past an honor cordon at the Pentagon, October 28, 2003. [Reuters]

Cao and Rumsfeld agreed that their talks were positive, constructive and fruitful.

As large and influential countries, both China and the United States have broad common interests for co-operation on important international and regional security issues.

He said that the development of a healthy and stable relationship serves the fundamental interests of the two countries.

Cao said military ties are an essential part of the Sino-US relations and a healthy and stable relationship between the two militaries is in the interests of both sides.

China is glad to see that the military relations are being restored and developing thanks to the support of the leaders of the two countries and the efforts of the defence departments of the two sides, Cao said.

Cao noted that the Taiwan issue is the most important and sensitive core issue in the Sino-US relations.

He expressed his hope that the United States adheres to the principles of the three joint communiques and its commitment to opposing "Taiwan independence,'' and handles the Taiwan issue properly, including arms sales.

Particularly, Cao pointed out, the United States should not sell advanced arms to Taiwan, nor should it conduct any military exchanges and co-operation with Taiwan.

In his remarks, Rumsfeld spoke highly of the momentum in the development of the relations between the two countries and the two militaries, adding that China is an important country and the development of bilateral relations in various fields are beneficial to both sides.

Rumsfeld said the bilateral relations experienced some difficulties at the beginning of the Bush administration. But relations returned to normal two years later and the military exchanges have increased recently.

On the Taiwan issue, Rumsfeld said the US Government abides by the one-China policy and a peaceful solution of the issue.