BofA to buy FleetBoston for $43 billion
( 2003-10-28 10:21) (Agencies)
Bank of America Corp. agreed on Monday to buy FleetBoston Financial Corp. in an all-stock merger valued at $43 billion, creating the second-largest U.S. bank.
The takeover of Boston-based Fleet will expand Bank of America's presence in the U.S. Northeast. It would be the second-biggest U.S. bank merger after NationsBank's $57 billion purchase of BankAmerica in 1998 created Bank of America.
Analysts and investors said Bank of America may have paid too much, and shares of the Charlotte, North Carolina-based bank tumbled more than 10 percent.
"The market feels that B of A is overpaying and may be destroying more value than it creates through cost savings," said David Hendler, an analyst at CreditSights Inc., who has a "buy" rating on Bank of America shares and bonds.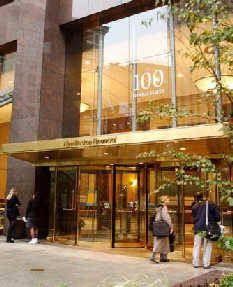 This is the FleetBoston Financial building shown Monday, Oct. 27, 2003, in Boston. Bank of America and FleetBoston Financial say they have signed an agreement to merge, creating the second-largest banking company in the world, according to a published report. [AP]

Fleet shareholders will receive 0.5553 Bank of America common share for each of their shares. The merger originally valued Fleet at $47 billion, or $45 per share, a 41.5 percent premium over Fleet's Friday closing price.

Fleet shares rose $7.40, or 23.3 percent, to $39.20 on the New York Stock Exchange. Bank of America shares fell $8.29, or 10.1 percent, to $73.57.

The acquisition helps Kenneth Lewis, Bank of America's 56-year-old chairman and chief executive, create what he called a "fortress franchise" and expand into New England, which is dominated by Fleet and where Bank of America has no branches.

"If you want to be in Boston, southern New England and New York, there is no other single road to that destination," Lewis said on a conference call.

Later, meeting with reporters, he said: "I think investors, as they look at the whole story about the arithmetic, they'll like it a lot more than at first blush."

Wayne Bopp, an analyst at Fifth Third Investment Advisors in Cincinnati, whose $31 billion of assets includes both banks' shares, said: "The northeast United States was the biggest hole in Bank of America's footprint, and this fills it." He said, though, that Bank of America paid "a full price."

The merger is to close in the second quarter of 2004. It would be the largest in any industry since Pfizer Inc. in April finished its $60 billion takeover of Pharmacia Corp.

Gerard Cassidy, an RBC Capital markets bank analyst, said the merger "is going to be a catalyst for other large (bank) transactions" within six months.

GROWTH

Bank of America is the No. 3 U.S. bank and Fleet is No. 7. With $933 billion of assets, the merged company will vault over No. 2 J.P. Morgan Chase & Co., which has $793 billion, and trail Citigroup Inc., which has $1.21 trillion.

Lewis will become CEO of the combined company, and Fleet Chairman and CEO Charles "Chad" Gifford will become chairman. Bank of America will have 12 of the bank's 19 board seats.

"I'll be chairman for a couple of years, then I'm going to retire," the 60-year-old Gifford told reporters. Fleet was formed from the 1999 merger of Fleet Bank and Bank of Boston.

The company will employ about 180,000 people, run 5,669 banking offices and 16,551 automated teller machines, and control 9.8 percent of U.S. bank deposits, more than twice No. 2 Wells Fargo & Co.'s 4.2 percent.

It will serve 33 million retail and 2.5 million business customers in 29 states and 34 other countries, handle 15 percent of the debit card market, and have $456 billion of assets under management.

"In candor, I didn't think I would" sell Fleet, Gifford said. "It became increasingly clear to us that scale is a tremendous advantage, if properly managed. Bank of America was the one bank that was taking advantage of this scale."

James Hance, Bank of America's chief financial officer, said the bank expects 2004 per-share profit of $7.10, below the $7.24 average analyst estimate according to Reuters Research, a unit of Reuters Group Plc.

He said the bank foresees an $800 million after-tax restructuring charge, and $1.1 billion of after-tax savings by 2005. Hance said he did not know how many jobs might be lost.

Legal experts saw no obvious antitrust problems because the two banks operate in different parts of the United States.

NORTHEAST

The merger validates Fleet's strategy of focusing on its retail business and cutting risk, after the bank made bad loans in Argentina and to such companies as Enron Corp., and shut its technology-focused Robertson Stephens investment bank.

"Fleet will do better" after being "undermanaged historically," said David Katz, chief investment officer at Matrix Asset Advisors Inc. in New York, whose $950 million of assets includes both banks' shares.

Fleet had been the subject of merger talks with John Hancock Financial Services Inc. before the Boston-based insurer agreed last month to be bought by Canada's Manulife Financial Corp. .

"There are many more banks that want to move into the Northeast than there are banks available," said Bopp. "It leaves other banks looking at their second and third choices."

Bank of America's mutual funds group, Nations Funds, has been at the center of the regulatory probe into whether hedge funds were allowed to trade mutual fund shares improperly.

Banc of America Securities and Goldman Sachs & Co. advised Bank of America on the merger. Morgan Stanley advised Fleet.