High profile cases draw public attention
( 2003-10-28 09:39) (China Daily)
The trial of a baby-trading gang now under way in Yulin City, South China's Guangxi Zhuang Autonomous Region, has drawn widespread public attention and shocked local communities.

Children rescued last year from a baby trafficking gang, who took 21 babies from Xuanwei, Yunnan Province, and sold them in Hebi, Henan Province. [China Daily/file]
The 52-member gang is accused by the city's People's Procuratorate of trafficking 117 infant girls and one boy from 2001 to March 2003.
All the deals came to light after police in Guangxi uncovered two criminal cases involving the trading of 41 babies last March and cracked the trading ring linking Guangxi to Hubei and Henan Provinces in central China and Anhui Province in the east.
What appalls the public in both cases is the gangsters' alleged illiteracy, indifference to the infants' survival and the active involvement of medical workers.
According to the indictment, the homesteads of Xie Deming and Xin Lifang were the headquarters in Yulin where babies from around the region were collected. Xie, 57, allegedly bought 64 female infants from traffickers, medical workers and midwives in rural areas with the aid of her family of seven.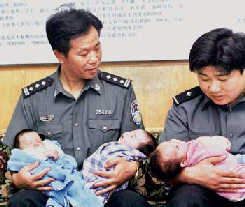 Policemen carry babies rescued from last year's baby-trafficking case in Wuhan, Hubei Province, where members of the gang were caught on a train passing the city. [newsphoto.com.cn]
"I'm illiterate and didn't realize it (selling children) was illegal," says Xin, admitting that she earned more than 6,000 yuan (US$720) from selling the 31 babies to Cai Liping, a Hubei Province native.
Through middlemen working in Hubei and Henan, the infants were sold to their final destinations in Anhui and Henan provinces.
The human traders, most of them women or people posing as married couples, travelled by train or chartered long-haul sleeper buses to transfer the infants. But to escape suspicion, they later broke up into smaller groups and boarded the chartered buses at different locations.
To prevent the babies from crying, the traffickers fed them a special "sleeping potion" and bound their little hands and feet with pieces of cloth before loading them by twos, threes or fours into travel bags. Normally, they placed these bags beside their seats or in the overhead luggage racks. Once in a while they opened the bags to let in fresh air and feed the infants.
The recipient traders at Anhui and Henan later sold the babies on to locals at much higher prices. While the lowest price paid to a midwife for a baby was 50 yuan (US$6), the final "transaction" price could be as high as 2,000 to 3,000 yuan (US$240-360). The prices, the suspects confessed, varied depending on a baby's appearance and state of health.
But the brunt of the public's outrage has been directed at the medical workers involved. Of the 52 accused gang members, 11 are doctors or nurses from local public health clinics, hospitals, maternity and child care hospitals, and private clinics.
Li Qiong, director of the gynaecology and obstetrics department at Fumian District Hospital in Yulin City, was approached in early 2001 by baby-traders asking for unwanted infants. An arrangement was soon made that once staff knew of an unwanted baby, those on duty were to call the trader, who would take the baby at a fee of around 200 yuan (US$24). The mother, for her part, had to sign a written statement giving her consent for the child's adoption and promising never to search for the baby.
Unlike the past when impoverished families sometimes gave their newborn children away to a well-off family, in the Yulin cases, poverty has little to do with it.
In close proximity to Guangdong Province, one of the country's fast-churning economic engines, Yulin is relatively developed compared to other areas in Guangxi. The major reason for the high incidence of child abandonment and baby trafficking is, according to insiders, the still-prevalent feudalistic mindset that male offspring are preferable to females.
Wu Zhulin, chief of Guangxi's criminal investigation task force, cites a popular saying in Yulin: "A boy child can have anything he wants, whereas a girl will have to make do with anything she's given."
In the local communities, a couple that fails to produce a boy to carry on the family name is still regarded as "without face". Some people in the area are willing to give a girl child away or simply leave it in hospital after giving birth.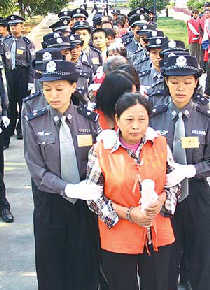 The 52 suspects charged with baby-trading await public trial in Yulin, Guangxi Zhuang Autonomous Region. [China Daily]
Loopholes in the country's family planning practices in rural areas are also to blame. These include a lack of files on pregnant women or women of child-bearing age, as well as an absence of postnatal services such as home visits.
Local regulations allow rural couples to have a second child if the first one is a girl. However, when the second one also turns out to be a girl, some disown the child and try again for a boy. Farmers widely regard boy children as insurance against the uncertainties of old age as they are largely uncovered by the social security system. Also among the discarded babies are infants born out of wedlock.
Hence, the supply market.
In this buyers' market, say some insiders, girl children are deemed a kind of investment, as the girls are expected to work and earn money for their adoptive families. And once again, loopholes in the family planning network help - in some areas of Henan, it's easy to register a purchased child, at a reported 8,000 yuan (US$963).
"The female infant trade is the strange outcome of both the 'males-are-superior' mindset," says Dr Mu Zhikun of the Population and Development Research Centre at Renmin University of China.
As a basic human act, he explains, child bearing should be performed within the ethical framework of obligation. Irresponsibility and gender bias will inflate rapidly in an environment where moral obligations are low and the profit return is high.
Although, according to China's Criminal Procedure Law, the crime of child abandonment entails up to five years of imprisonment for offenders, and child traffickers can be punished with five to 10 years of imprisonment, many members of the gang seem to be ignorant of the law.
"The offenders in these cases actually believed they were doing something good for others, unaware that both child abandonment and trading were against the law," says an astonished senior police officer, who asked to remain anonymous.
At the court in Yulin, Liu Xuying from Henan, whose relative is among the accused, argues the point. "What my sister-in-law did was philanthropic. Many people here would put their newborn daughters into cartons and place them on the roadside. Their chances of living would be slim if no one picked them up. I can't understand why these good-hearted people should be arrested."
Wu Zhulin, the criminal investigator, responds with indignation: "Farmers, even many city dwellers, have little knowledge of the law. Many farmers have no idea that child abandonment, infanticide or baby trading are illegal. Some of the more profit-driven even go as far as trading the babies like merchandise."
The Criminal Procedure Law also rules that those who kidnap more than three children or dupe children for the purpose of selling them will receive life sentences, or even the death penalty if the case is extremely serious.
By the end of the trial, which is expected to last more than two weeks, "some of the accused will surely get capital punishment", predicts Zhu Yantao, an officer with the criminal investigation section of the Ministry of Public Security. Zhu has played a key role in cracking the cases in Guangxi.
She says it has been an extremely "arduous" task, with so many people involved at different stages of a trafficking chain that spans several provinces. To complicate matters further, the victims are infants who cannot speak for themselves.
Chen Zhiyuan, a criminal investigator from Yulin City shares her view, saying, "It's very difficult to find evidence."
A total of 41 babies have been rescued from the two cases, one has died. DNA technology is being used to try to identify the parents of the babies. However, only six infants have been reunited with their birth parents. The rest are under the care of local civil affairs departments after receiving medical treatment.
Zhu Yantao, who declines to reveal the extent of baby trafficking in the country, describes the two cases as rather "exceptional", although she acknowledges that they are not by any means the only such cases.
"One should see the urgent necessity to cultivate people's awareness of the law and ethics, especially among our medical workers," she concludes.
A nightmarish travel
Unwanted babies go to traders, arranged by medical staff or a midwife, at a fee from 50 yuan to 200 yuan;


Babies, fed sleeping potion, with hands and feet bound, transported to Anhui and Henan by traffickers, on train or charted bus;


Sold to an adoptive family at a price between 2,000 yuan and 3,000 yuan;


The adoptive family spend 8,000 yuan to get the child a legal registration.