US points finger at foreigners over Baghdad attacks
( 2003-10-28 09:16) (Agencies)
A U.S. general said there were signs foreign fighters were behind four suicide bombings that killed 35 people and wounded 230 Monday in Baghdad's bloodiest day since Saddam Hussein was overthrown.
U.S. President Bush, campaigning for re-election next year amid mounting criticism over his Iraq policy, vowed not to retreat after the attackers drove a bomb-packed ambulance at Red Cross headquarters and struck three police stations.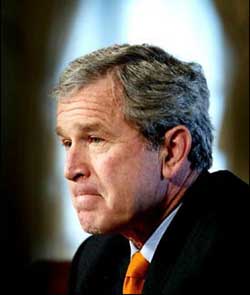 George W.Bush

The apparently coordinated morning rush-hour bombings followed the killing of three U.S. troops overnight and the death of another in a rocket attack Sunday on a Baghdad hotel where U.S. Deputy Defense Secretary Paul Wolfowitz was staying.

"There are indicators that certainly these attacks have a mode of operation of foreign fighters," U.S. Brigadier General Mark Hertling told reporters, adding that one attacker captured in a foiled raid on a police station had a Syrian passport.

"He's a foreign fighter. He had a Syrian passport and the policemen claim that as he was shot and fell that he said he was Syrian," Hertling said, echoing previous U.S. statements that al Qaeda and other foreign militants were operating in Iraq.

Hertling, branding the bombings at the start of the Muslim fasting month of Ramadan as "criminal (and) sacrilegious," said suicide attacks were not typical of Saddam supporters, blamed by Washington for many raids since the Iraqi leader was toppled in April.

Since Bush declared major combat over on May 1 a total of 113 U.S. troops have been killed by hostile fire, mostly in a so-called Sunni Muslim "triangle" including Baghdad. Saddam, a Sunni, had strongholds of support in the area.

"AL QAEDA HALLMARKS"

Hoshiyar Zebari, foreign minister on the U.S.-appointed Iraqi Governing Council, told the BBC: "This kind of suicide attacks bear all the hallmarks of al Qaeda operations. They are alien to the Iraqi character."

Bush said progress was being made toward developing a better life for Iraqis and Monday's bombings showed the attackers were becoming more desperate in trying to stop change.
U.S. Army special forces arrive to examine the left overs of a suicide car, right, after a suicide bomber rammed an ambulance packed with explosives into security barriers outside the offices of the international Red Cross in Baghdad, Monday, Oct 27, 2003. [AP]

"It's in the national interest of the United States that a peaceful Iraq emerge and we will stay the course in order to achieve this objective," Bush said after a meeting at the White House with the U.S. administrator in Iraq, Paul Bremer.

Bush has been under pressure to stabilize Iraq so the costs of its reconstruction can be powered by its vast oil reserves, the second largest in the world after Saudi Arabia. He has urged more countries to contribute troops, but heavyweight states such as Russia, France and Germany have stayed away.

"It's been a bad 24 hours," said Secretary of State Colin Powell, appealing to the International Committee of the Red Cross (ICRC), aid groups, contractors and the United Nations to remain in Iraq.

"Their work is needed. And if they are driven out, then the terrorists win. But they have to balance that desire to do the job and stay, with their security needs," Powell said.

Before the bloodshed Sunday and Monday, Washington had hailed an international donors' conference on Iraq last week as a success and eased some security restrictions on travel in Baghdad at the start of Ramadan.

Officials said 26 civilians, eight Iraqi police and one U.S. soldier were killed in Monday's attacks, which plunged Baghdad into fear and chaos.

The ICRC said the attack on its headquarters killed 10 to 12 people. An outer wall was smashed and windows were shattered.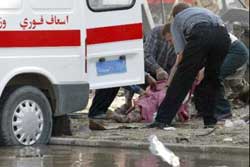 A dead woman is carried out of a building after a suicide bomber rammed an ambulance packed with explosives into security barriers outside the offices of the international Red Cross in Baghdad, Monday, Oct 27, 2003. [AP]

"I saw an ambulance car coming very fast toward the barrier and it exploded," an ICRC guard said. Hertling said initial indications showed it had Red Cross or Red Crescent markings.

FIRST OF ITS KIND

The attack on the ICRC headquarters was the first of its kind on the organization, whose avowed mission is to help victims of war and never take sides.

"We always believed we were protected by the humanitarian work we do," ICRC spokeswoman Nada Doumani told Reuters.

Geneva-based ICRC cut its foreign staff from more than 100 to about 30 after a Sri Lankan technician was shot dead in July and a suicide attack on U.N. headquarters in Baghdad in August killed 22 people, including U.N. envoy Sergio Vieira de Mello.

The ICRC said it had not made any decision on evacuating remaining international staff from Baghdad.

U.N. Secretary-General Kofi Annan said the attack on the ICRC headquarters in Baghdad was "a crime against humanity."

U.S. forces are hunting for Saddam, but Major General Raymond Odierno, commander of the U.S. Army's 4th Infantry Division which patrols a swathe of central Iraq, said: "I have seen no indications that he is in any way controlling what's going on right now."