England Rose in The Wind
( 2003-10-27 11:35) (Agancies)
The former butler to Britain's late Princess Diana vowed Sunday to defy pleas from her royal sons and continue his headline-grabbing series of revelations about her private life, according to a Reuters news report.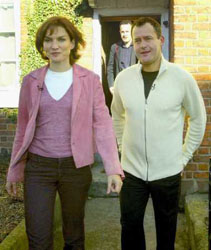 Paul Burrell (R), the former butler to Britain's late Princess of Wales, leaves his home in Farndon, Cheshire, after giving an interview to television news reporter Fiona Bruce (L), Oct. 26. [Reuters]

Paul Burrell, who has filled Britain's media this week with details of Diana's letters, her lovers and her fears of a plot to kill her in a car crash, said there was a lot more to come.
Diana's sons, Princes William and Harry, accused Burrell on Friday of a "cold and overt betrayal" of their mother and begged him to stop.

But Burrell told the Sunday Times newspaper in an interview that the disclosures so far -- which include a letter in which Diana claimed someone was planning to kill her in a car crash -- are only the "tip of the iceberg."

Burrell, who was Diana's servant, friend and confidante for more than a decade during some of the most turbulent times in her failed marriage to Prince Charles, also said the princes "little minds" had been poisoned by members of the royal family.

Diana died alongside her lover Dodi al Fayed and their chauffeur Henri Paul when their Mercedes crashed in a Paris road tunnel on Aug. 31, 1997.

Burrell stood trial last year accused of stealing hundreds of the princess' belongings including letters, jewelry and clothes, but the case collapsed dramatically after Queen Elizabeth said she remembered Burrell telling her after Diana's death that he would look after some of her possessions.

The former butler is now publishing a book entitled "A Royal Duty" in which some of the letters are included.

In a strongly worded statement Friday, Diana's 21-year-old son Prince William urged Burrell to stop what he described as a "deeply painful" abuse of his position.

William, who also spoke for his brother, said Burrell's book "would mortify our mother if she were alive today."

The princes want to meet Burrell to discuss the issue.

Diana and her lover Dodi always tried to duck out of the cover of news press.

A spokeswoman for the princes told Reuters on Sunday: "William is very keen to meet Paul, he has made that very clear." But she said the meeting, when it takes place, would be private and no details would be released.

Burrell described himself in the Sunday Times as "the keeper of these secrets" and said he hoped the princes would change their minds about his book in the future.

"I hope one day they would like to know how their mother lived," he said. " She lived a very solitary life. I am the only one who witnessed that life."

He also insisted he was not betraying Diana's memory. "I know where the boundary is and I do not cross that line. Anything I reveal is to illustrate a fact."
Princess Diana's friends call her ex-butler a vulture; he accuses royal courtiers of poisoning the minds of Prince William and Prince Harry; his wife aims brickbats at Buckingham Palace _ and Paul Burrell's memoirs don't even hit British bookstores until Monday.

Burrell is a ``runaway train'' with much distance yet to travel, said former Buckingham Palace press spokesman Dickie Arbiter in a weekend exchange of unpleasantries by all sides in the latest Diana dust-up.

The Daily Mirror's serialization of Burrell's ``A Royal Duty,'' has treated millions of readers to his intimate view of Princess Diana's life, including private correspondence from her former father-in-law, Prince Philip, and her brother, Earl Spencer.

Prince William and Prince Harry, who have known Burrell since early childhood, issued a strong statement Friday, accusing him of a ``cold and overt betrayal'' of their mother that would have mortified their mother if she were alive.

``My only intention in writing this book was to defend the princess and stand in her corner,'' Burrell replied.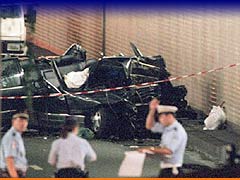 The crashed car after accident in Paris.

In an interview with British Broadcasting Corp. TV to be broadcast Monday, Burrell said he was ``angry'' with the princes, accusing them of following advice from courtiers. ``Why listen to people who always say yes and no one tells you no?'' Burrell said.

In the months after Diana's fatal August 1997 car crash in Paris, Burrell vowed repeatedly never to divulge her secrets. One of the first to appear in the Daily Mirror serialization last week was a letter he said Diana had written to him, saying she feared someone wanted to harm her and was going to tamper with the brakes of her car.

Although a French judge ruled that the car crashed due to its high speed and the effect of alcohol and drugs on fatally injured driver Henri Paul, some insist the crash was not an accident. Publication of the letter prompted Mohammed Al Fayed, father of Diana's companion Dodi Fayed, who died in the crash with her, to renew his allegations that they were murdered.

Rosa Monckton, one of Diana's closest friends, who rarely comments publicly about the princess, wrote in The Sunday Telegraph about that letter.

``This was by no means the only time that ludicrous ideas were put into her head by the sort of people who always prey upon vulnerable women in high places _ astrologers, so-called mystics and other pagan riff-raff,'' Monckton said.

She said Burrell, better than most, knew how hounded the princess was during her life, ``and yet now he joins the rest of the vultures who had the task of looking after her, in picking over the bones of her existence in his book.''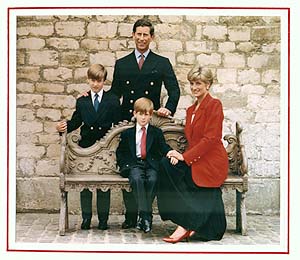 The once happy family

However, Monckton said she was glad the serialization ``destroys the myth that the Duke of Edinburgh (Prince Philip) was brutal or unfeeling toward her.''

The letters said to be from Prince Philip held Diana partly responsible for the breakdown of her marriage. He also purportedly wrote to tell her he ``never dreamed'' Prince Charles would leave her for longtime companion Camilla Parker Bowles.

Vivienne Parry, another friend and a former trustee of Princess Diana's memorial fund, described Burrell's book as ``cynical.''

``I think there has been no wrestling with his conscience, the only thing he has been wrestling with is which letter to draw from the capacious file marked 'P' for pension plan,'' Parry told British Broadcasting Corp. television on Sunday.

Burrell spent nearly two years fighting accusations that he stole more than 300 items from the princess and other royals, and went on trial last year.

He was exonerated in November when Queen Elizabeth II announced the servant had told her five years earlier that he'd taken some of Diana's papers for safekeeping.

In the BBC interview, Burrell complained that Diana's sons had not been in touch with him since his trial.

It would have been a very different world if the telephone had rung and the boys had said `Oh Paul we're sorry we couldn't help you during your trial, we just couldn't our hands were tied. Why don't you come down to London with Maria and the boys and we'll do something?'''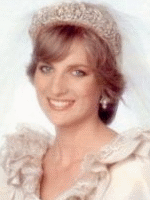 Referring to his book, Burrell added: ``Just one telephone call would have stopped it, one. Is that too much too ask - really?
In the Sunday Mirror, the butler's wife, Maria Burrell, was quoted as saying, ``The Royal Household want everyone to focus on the plight of William and Harry, but what about my boys? No one gave them any consideration when their dad was dragged to court and threatened with prison when all he did was protect Princess Diana's world.''
Arbiter, the former palace spokesman, predicted Burrell wasn't finished.
``We have got a runaway train here and it is not going to stop until it hits the buffers, and the buffers are a long way off,'' Arbiter said Saturday.