Hamas says it's willing to renew talks
( 2003-10-27 11:21) (Agencies)
Hamas said Sunday it is ready to talk to the Palestinian prime minister about halting attacks on Israelis, even though the Islamic militant group participated in a deadly attack on a Jewish settlement in the Gaza Strip two days earlier.
Israel on Sunday retaliated for the attack on the Netzarim settlement, blowing up three uninhabited high-rise buildings the army says were used as lookouts by the assailants, one from Hamas and the other from the smaller Islamic Jihad group, who killed three Israeli soldiers at the isolated, heavily guarded settlement southwest of Gaza City.
More clashes were reported in Gaza, leaving at least one suspected Palestinian militant dead.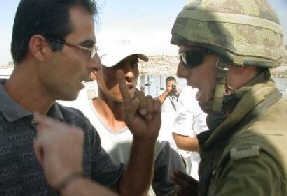 Palestinians argue with an Israeli army soldier manning a checkpoint in the outskirts of the northern West Bank town of Qalkilya, Oct. 26, 2003. [AP]

Meanwhile, Israeli Prime Minister Ariel Sharon told his Cabinet he would try to persuade European leaders not to support an unofficial peace proposal reached by Palestinian officials and Israeli opposition figures with Swiss backing.

Palestinian Prime Minister Ahmed Qureia, who took office on Oct. 5, has repeatedly said that he wants to reach a cease-fire in hopes of ending more than three years of fighting between Israel and the Palestinians. Israel has said, however, it will not begin negotiations until all Palestinian security forces are placed under one command and begin cracking down on militants.

Qureia and his predecessor, Mahmoud Abbas, have held talks with militant groups about halting attacks voluntarily, but so far to no avail. The militants say they want guarantees that Israel stop its military strikes, a promise Israel has refused to make.

A unilateral truce declared by militants on June 29 was negotiated through back channels, without the involvement of Abbas, and broke down several weeks later in a burst of violence.

Despite these difficulties, Ismail Haniyeh, the Hamas spokesman in the Gaza Strip, said his group had responded favorably to an invitation to meet with Qureia. "Hamas is preparing for this meeting," he said, adding that no date has been set.

Qureia's office could not confirm the invitation had been issued but reiterated the Palestinian Authority's interest in gaining Hamas assent for a cease-fire with Israel.

"Ahmed Qureia has declared from the beginning that he is working to achieve a mutual cease-fire with Israel and working as well to confirm that there is one authority in the Palestinian territories," said Hassan Abu Libdeh, the bureau chief of the Palestinian Cabinet.

Officials close to the prime minister said Egypt is playing a key role in encouraging the cease-fire efforts. Egyptian officials were not immediately available for comment.

A senior Israeli official said Israel was following the cease-fire developments but was not involved. U.S. officials weren't immediately available to comment.

In Gaza, Israel dynamited three high-rise buildings near Netzarim, the Israeli settlement and army base that was attacked on Friday.

Israel briefly evacuated 2,000 Palestinians from their homes in the dead of night before blowing up the buildings. The explosion rocked the area for miles around and sent plumes of black smoke and debris into the air and causing damage to many nearby Palestinian homes.

Before dynamiting the buildings, Israeli troops blew up a Palestinian police post where the military said one of Friday's attackers had fled and received shelter.

During Sunday's weekly Cabinet meeting, Foreign Minister Silvan Shalom, just back from a trip to Europe, said that EU officials plan to set aside $7 million to support the so-called Geneva peace plan. The unofficial plan, reached by former Israeli and Palestinian peace negotiators, calls for Israel to return almost all land it captured in the 1967 Mideast war in exchange for peace with the Palestinians.

Shalom told the Cabinet that Israel will express opposition to the EU initiative once the funding becomes official, said an Israeli official who attended the meeting.

"We need to fight the Geneva program and the support given it by the Europeans," Sharon was quoted as saying.

In other developments, the Cabinet decided to set up a central register of Jewish property abandoned by fugitives from Europe, Arab countries and Iran, said the Israeli official. The record would be used as a response to claims for compensation by Palestinian refugees in future peace talks, the official said.

Many Palestinians lost property after fleeing or being forced out of what is now Israel during the two-year war that followed its establishment in 1948. Likewise, thousands of Jews lost property in the Nazi Holocaust or after fleeing homes in the Arab world in the years after Israel's independence.