Top legislator to visit DPRK next week
( 2003-10-24 01:15) (China Daily)
China's top legislator Wu Bangguo will head a State delegation to pay an official goodwill visit to the Democratic People's Republic of Korea (DPRK) and hold talks on "important issues'' from Wednesday until Friday.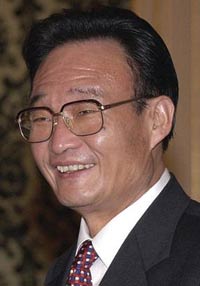 Wu Bangguo, chairman of the Standing Committee of Chinese National People's Congress, will visit North Korea next week as Beijing tries to encourage a second round of six-party discussions about Pyongyang's nuclear program. [AP/file]
Releasing details about the trip yesterday, Foreign Ministry spokeswoman Zhang Qiyue said: "Being friendly neighbours, China and the DPRK have tradition of high-level exchanges between the state leaders.''
During the visit, the two sides will have an in-depth exchange of views on bilateral issues, regional and international matters and other issues of common interest, Zhang said.
At the invitation of the DPRK Supreme People's Assembly Presidium and the DPRK Cabinet, Wu, the chairman of the Standing Committee of China's National People's Congress (NPC), pays the visit to reciprocate the visits made by DPRK state delegations in 1999 and 2002.
His delegation will be composed of senior officials from Party, government and military sectors. Officials from the NPC will be included as well.
Zhang said Vice-Foreign Minister Wang Yi, , who is in charge of Asian affairs, may also be on the trip.
In relation to the recent rescue exercise in the East China Sea involving Chinese and Pakistani forces, Zhang said it illustrated the nations' co-operation in the non-traditional security field.
The four-day operation, which ended on Tuesday, was the first time the Chinese navy had held a combined exercise with its foreign counterpart since the founding of New China in 1949.
It was not linked to any military exercises being conducted by other countries, Zhang said.
She said that at the invitation of President Hu Jintao, Pakistani President Pervez Musharraf will pay a state visit to China from November 3 to 5, further strengthening the nations' links.
Prior to his official visit, Musharraf will attend the second annual Boao Forum for Asia in Hainan Province.
It will be the first meeting between Musharraf and China's new leadership, the spokeswoman added.
Commenting on the international donation meeting in Madrid to help rebuild Iraq, Zhang said China had dispatched a delegation led by Shen Guofang, assistant to foreign minister. The delegation is composed of Chinese companies.
The delegation will also attend an industrial and commercial forum in Spain's capital, she said.
In its backing for the reconstruction of Iraq, China has given aid within its means and will make a relevant donation this time, Zhang said, without revealing the sum.