Building dreams in metropolis
( 2003-10-23 14:12) (China Daily HK Edition)
It is nearly dusk. Chen Dezhou still squats on the scaffolding working with concrete. His legs are numb and his eyes blurry with sweat.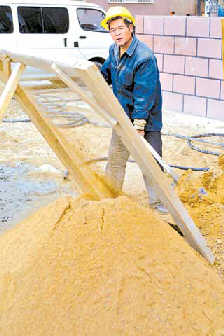 Sun Zihai used to be a cotton planter back in his hometown at Heze, Shandong Province. [China Daily HK Edition]
He has been there for almost 12 hours since 6am.
Other construction workers now call him for supper. Slowly rising to his feet, he tries to climb down the scaffolding with stiff limbs.
When standing on the ground, his first instinct is to wash his hands. He has reduced toilet breaks to a minimum, because climbing up and down the scaffold is not safe and time consuming.
The supper is simple with three dishes: cabbage, sweet potato noodles and fresh kidney beans fried with shredded meat. They are heated in big basins and about 100 workers queue up to get their share.
Chen is hungry. Sitting on a wood block at a corner, he wolfs down everything in his bowl. In fact, he is quite satisfied with the meal. It is free and he can ask for additional steamed buns. He has worked in other construction companies where he has had to pay for food no better than this.
He lives with eight construction workers in a small basement room. Four bunk beds and numerous big trunks are crowded in the 15 sqm space and the ceiling is less than two metres high. There's no TV, newspapers or radio. Taps for water are out in the yard.
The only diversions available for him and his roommates in the evening are to chat and playing cards.
Usually, though, they choose to sleep soon after supper because they are all exhausted after a day's hard work.
Yet sometimes he cannot sleep. He misses his wife and daughter in Anyang, Henan Province terribly.
And these days he is especially worried because his wife wants to divorce him. "It is not her fault," he told the reporter. "I spend too little time at home." Usually only during the Spring Festival does he get the chance to go home.
"But I have no choice," Chen continues. "Here I can get about 1,000 yuan (US$120) a month to support my family. If I go home and do some farming, I cannot afford any expense besides food and my daughter's tuition."
Her tuition costs about 200 yuan (US$24) a year.
Though he himself has little education, Chen dreams of supporting his daughter to go to college in the future: "In rural areas a lot of children don't continue studying after graduating from primary school.
"But I want my daughter to study in Beijing and find a decent job in the capital. I will be very proud if she is well educated like other Beijngers."
An excavator driver
Wang Zhixin, about 35 years old, has worked amidst dust and din for seven years.
Every morning he climbs into the tiny cab of an excavator and begins a hard day's work operating the giant machine, repeatedly digging holes on construction sites.
Working 14 hours a day is not unusual: "If the project is running behind, working overtime is a must. Only in the heaviest rain will work be suspended. We put up with this, knowing that if the boss is penalized for any delays, our payment will be decreased in the end. "

Migrant workers in Beijing. [China Daily HK Edition]
He seldom enjoys resting on weekends or holidays. There is a unanimous rule in construction companies: rest days mean no money for workers.
Long years of working has left him with occupational diseases. The noise has damaged his hearing. His eyes frequently itch and shed tears because of the dust on building sites.
He buys some cheap eye drops to treat his inflamed red eyes. Though he earns 40 yuan (US$4.83) a day, double the basic builders' payment, going to the hospital is still a luxury for him.
"I am satisfied being an excavator driver. At least I am much safer than other builders," he said. Only the previous week, a worker lost a finger in an industrial accident.
"The boss took him to hospital and paid the fees. That worker was lucky, even though he gets no compensation. Sometimes injured workers have been left without a cent to cover their medical costs in some construction companies."
He now works for a hometown company, Jiangsu Nantong Construction company.
"We feel safer working for someone from our hometown. I used to work for a boss from another province. He treated me badly, delaying my payment at the end of the year. And I don't dare to quarrel with him. "
Wang feels a sense of pride working in the capital: "I am happy to see those beautiful buildings in the city. It is done by our hands, though nobody notices us. "
An old hand
Sun Zihai, 52, is probably the oldest construction worker in the Fang Xiu company.
When the reporter caught up with him, he was sifting sand in the drizzle.
This is his first experience working as a builder on a construction site after a long period searching for work. Before going to the capital, he used to plant cotton at home in Heze, Shandong province. That would hardly make ends meet.
He said: "I am still in good physical condition. While I am healthy, I want to save something if possible."
The old man was in fact rather grateful that the boss hired him. "It is very hard for a man of my age to find such a job. I am really lucky!"
He works quite hard. After all, he wants the boss to hire him again for the next project and aims to impress.
Indeed he feels nervous chatting to me: "I can't spend too much time talking with you. The boss will be not happy that I am wasting time. And I may lose the job."
Lacking any skills, he does the physical work on the construction site. That includes digging, fastening scaffolding and moving bricks. He earns about 600 yuan (US$72) a month, which is a small fortune to him.
"After the project is finished I will go to Tian'anmen square. I will visit the Chairman Mao Memorial. And I can take some gifts for my family." He smiles, his wrinkles unfolding like flowers on his face.
The boss
Work team boss Hu Shengyang won't let terrible living conditions deter him from his dream of getting rich on the back of Beijing's construction boom. The 37-year-old from Jurong in East China's Jiangsu heads up a construction team and has faced many of the trials and tribulations of those earning a hard living in that trade.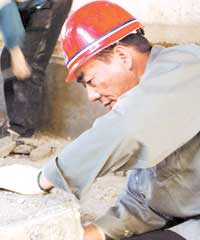 Zhang Xuefu
A migrant worker's accounts book
Total income: 770 yuan (US$92)
Expenditure:
Kids' tuition: 400 yuan (US$48);
Food: 5x30=150 yuan (US$18);
Telephone bill: 10 yuan (US$1.2);
Shower: 10 yuan (US$1.2);
Haircut: 5 yuan (US 60 cents)
Bus : 10 yuan (US$1.2);
Cigarettes: 45 yuan (US$5.4)
Savings for future use: Not entered
Wife and kid's new clothes: 20x4=80 yuan (US$9.6);
New house: 40 yuan (US$4.8)
But while he comes from an area long renowned for turning out builders, Hu is ready to admit his ambitious dream is far from realized.
"I have met many difficulties," said Hu, knuckling a brick firmly in his work-hardened hand.
Explained Hu: "We suffer losses easily because we only get paid at the end of a job when it is completed."
Last year, Hu and his workmates decorated the offices of a local company. They were due 200,000 yuan (US$24,100) but got paid only 75 per cent of that.
Legal action seemed pointless: "Engaging in a lawsuit takes time. I don't have the time because I am busy working all day."
Hu takes in around 3,000 yuan (US$360) a month on average. After paying rent, sending money to his parents and paying the tuition fee for his 13-year-old daughter who lives with him in Beijing, there's little left for saving.
"I live a simple and frugal life," he admitted.
To save money, he rents a cramped house in an eastern suburb of Beijing.
Getting to work on time means getting up at 5 am.
Hu and his team are currently decorating a 240-square-metre apartment for a family on Wanshou Road in the western part of the city. Hu, who often falls asleep on the subway on his way home, said: "Although I cannot be considered a rich person, I don't want to cheat my clients to get big bucks. Honesty and hard work are the motto of my group."