Auto big names eye China market
( 2003-10-23 10:00) (Bloomberg News)
General Motors Corp, Ford Motor Co, Toyota Motor Corp and other automakers displaying cars at the Tokyo Motor Show over the next two weeks, have their sights set on another Asian market: China.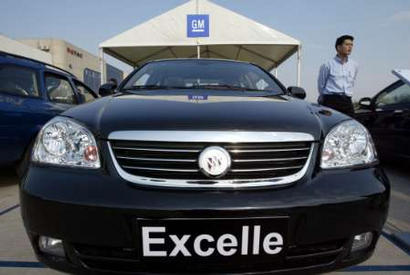 A Buick Excelle car sits outside at Shanghai GM, a joint venture between U.S. auto giant General Motors and China's No.2 auto maker Shanghai Automotive Industry Corp, October 16, 2003. GM sales from its four auto making ventures in China in the first three quarters of the year soared almost 38 percent to 267,395 units, exceeding 2002's total figure. [Reuters]


"We have to be in China," John Devine, General Motors' vice chairman and chief financial officer, said at a briefing in Tokyo on Monday. "Looking back five years, 10 years ago, the con-clusion would have been: 'you have to be in Japan to be in Asia. There was no alternative.' That's gone."

China, which may eclipse Japan in unit sales by the end of the decade according to analysts and automakers, is drawing a flood of investment. Ford last week said it plans to spend as much as US$1.5 billion to lift production in the world's most populous nation. Toyota, Volkswagen AG, DaimlerChrysler AG, Honda Motor Co, Nissan Motor Co and other companies have invested about US$20 billion in the country, the Chinese government said.

"Every major carmaker is opening up manufacturing plants there and, in terms of sales growth, China is the fastest," said Simon Koh, who helps oversee US$600 million at Commerzbank Asset Management Asia Ltd in Singapore.

Auto sales in China this year will probably rise by 80 percent as carmakers cut prices, and 20 years of 8 per-cent economic growth mean more people can afford cars, Paul Gao, a principal of Mckinsey & Co, said.

Those growth expectations are making it easier for automakers to turn away from Japan, where more than 30 automakers will be displaying models at the Makuhari Messe exhibition center in Tokyo until November 5.

General Motors, which shut its online auto retailing service in Japan last month, has turned over sales of its Chevrolet models to partner Suzuki Motor Corp. It will rely on tie-ups with its Saab unit, Suzuki, Fuji Heavy Industries Ltd's Subaru and Isuzu Motors Ltd, Chairman Rick Wagoner said in Tokyo. General Motors owns 20 percent of Suzuki, 21 percent of Fuji Heavy and 12 percent of Isuzu.

"We have to face the fact that by and large the products sold here are quite different than those that are demanded by US consumers," Wagoner said.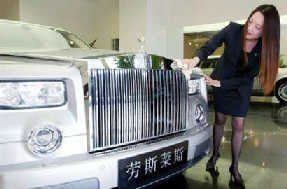 A saleswoman polishes a Rolls Royce selling for RMB5850,000 (US$700,000) at the first Rolls Royce dealership on the Chinese mailand in Shanghai October 16, 2003. Car sales in China smashed the one million-unit barrier last year and were expected to rise to some two million sedans sold this year. [Reuters]

Ford is active in Japan mainly through its Volvo unit and Mazda Motor Corp, Japan's fifth-biggest automaker, in which Ford owns a 33.4 percent stake. DaimlerChrysler has a 37 percent stake in Mitsubishi Motors Corp and Renault SA, France's second-biggest automaker, owns a 44.3 percent stake in Nissan.

"Realistically, they are giving up Japan in terms of selling and manufacturing branded products," said Mckinsey's Gao. In China, investment is increasing and the country has 600 joint-venture projects with overseas companies, Zhang Xiaoyu, vice president of the China Machinery Industry Foundation, said at a briefing in Tokyo.

"In China we don't face the same local issues" as in Japan, GM's Devine said.

Japan's auto market, which has shrunk by a quarter since 1990 as the country went through three recessions, is expected to contract 2.2 percent to 5.74 million units this business year, Goldman Sachs Japan Inc analyst Kunihiko Shiohara said.

Automakers are starting to see returns on their investments in China. General Motors' Devine said China is a profitable market for the company. Mitsubishi Motors in May said its operating profit in China was 20 billion yen (US$180.9 million) in 2002.

Mitsubishi Motors is in talks to increase stakes in some of its existing partnerships such as Hunan Changfeng Auto-motive Co, the Chinese partner has said.

Honda, which also says it's profitable in China, plans to double annual capacity there to 240,000 units by early 2004 from this year. Honda makes Odyssey minivans and Accord sedans in China at its venture operated by Guangzhou Honda Automobile Co in Guangzhou and began production of the Fit compact car this year.

Toyota, which hasn't made a profit from its China operations, is in talks with Guangzhou Automobile Group Co and may sign an agreement by the end of this year to make cars, President Fujio Cho said last month.

China has surpassed the United States as Volkswagen AG's second-largest market. Europe's largest carmaker, also profitable in China, is investing 6 billion euros (US$7 billion) over the next five years to double manufacturing capacity in the country. Chief Executive Bernd Pischetsrieder expects China to eventually surpass Germany as the company's largest market.