Communal elections sprout up in cities
( 2003-10-23 09:21) (China Daily)
In China, urbanites normally have the upper hand over their rural compatriots in almost everything. But there is one area, at least, where they have to bow to the more experienced villagers: elections.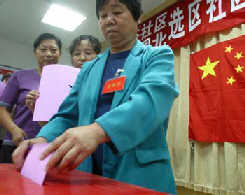 A resident casts her vote during a communal election in Lugu, Shijingshan District in Beijing, September 18, 2003. [newsphoto.com.cn/file]
While elections have been popular in the countryside over the past two decades, communal elections are still something new to the majority of residents in Chinese cities.
After a few years of small-scale experiments with communal elections, China is this year determined to make greater strides in promoting grass-roots democracy by increasing the number of pilot provinces, autonomous regions and municipalities to almost 20.
"Sunlit European City" is one of the residential blocks in the New Pudong District of Shanghai which have conducted communal elections this year. On Saturday, 551 of the 591 residents took part in an election to decide on their community committee.
"It was a surprise to us that so many people joined in the election," said Cao Yujie, a female member of the 11-member committee responsible for organizing the election.
The committee had been fearful that fewer people would vote, since they are so occupied by other matters like running businesses, working or doing family chores, Cao noted.
The same enthusiasm is being experienced by residents in other pilot cities like Beijing, Tianjin, Nanjing, Wuhan, Harbin, Jinan, Changsha, Yinchuan and Ningbo.
Communal elections have altered the country's decades-old tradition of appointing community leaders by local government. Under the new practice, the community committee is no longer allowed to be involved in commercial activities, and the government covers all of the office expenditure and salaries of such committees.
Thanks to the reform, residents will enjoy greater democracy and better public service from the community committee.
To ensure the success of this year's communal elections, the Ministry of Civil Affairs sponsored a national training course on relevant issues in Nanjing, capital of East China's Jiangsu Province. Similar training programmes were introduced in all pilot cities.
All those who have lived in a residential block for a period of time, which differs from city to city, are allowed to participate in communal elections, according to the law.
This has made it accessible to people of all age groups, transients from other parts of the country, as well as foreigners and compatriots from Taiwan, Hong Kong and Macao.
Many well-educated people and youngsters have joined the fold.
Chen Xiang, a graduate from the prestigious Tsinghua University in Beijing, has been elected as a deputy head of the community committee in Changsha, capital of Central China's Hunan Province.
A foreign national in Shanghai's Pudong and a Taiwan businessman in Tianjin were elected as leaders of their community committees last month, according to local media.