China launches satellite developed with Brazil
( 2003-10-21 14:18) (chinadaily.com.cn)
A Long March 4-B rocket carrying the Resources No. 1 satellite and a smaller Chinese scientific satellite blasted off at 11:16 a.m. (0316 GMT) from a base in the northern Chinese city of Taiyuan.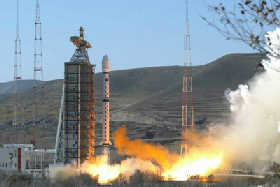 A Long March IV B carrier rocket blasts off into the sky at the Taiyuan Satellite Launch Center in North China's Shanxi Province October 21, 2003, carrying an earth resources satellite jointly developed with Brazil and a China-made Chuangxin I (Innovation I) into orbits. [Xinhua]

China Central Television said the launch was a success and the satellite had achieved orbit.

The satellite, the second of four scientific research satellites China and Brazil are planning, was launched atop a Long March IV B carrier rocket at 11:16am from the Taiyuan Satellite Launch Centre in the northern province of Shanxi.

According to data from the Xi'an Satellite Monitoring and Control Center, the Earth resources satellite entered the sun-synchronous orbit 13 minutes after the rocket lifted off.

The rocket went on flying for about 40 seconds and hurled a Chinese satellite into a fixed orbit smoothly. The satellite, known as Chuangxin I or Innovation I, was developed by the Chinese Academy of Sciences (CAS). It is the country's first satellite weighing less than 100 kg.

The second Resources No.1 satellite was designed to monitor Earth's land resources change, survey arable lands and grasslands, monitor natural and human disasters, offer information on aquatic farming and environmental pollution, and explore mineral resources.

The satellite would be controlled by China for one and a half years and by Brazil for the remainder of its two-year life span.

The resources satellite, 1,550 kg in weight with a designed service life of two years, was developed by China Academy of Space Technology in cooperation with Brazilian National Institute for Space Research. The satellite is more reliable than the first one which was developed by the two countries and launched on Oct. 14 ,1999 at the same launch center. The previous one has outlived its planned two-year service term and is still operational in orbit.

The Xi'an Satellite Monitoring Center will monitor and test the new resources satellite in orbit for some time before its actual utilization right is delivered to its clients.

Leaders of China and Brazil have congratulated on the successful launch, saying the achievement will enrich the two countries' strategic partnership and promote mutually beneficial and friendly cooperation, according to sources with China's Ministry of Foreign Affairs.

It was the 30th consecutive success of China's launching Long March rocket series since October 1996.

China and Brazil launched their first Earth Resources Satellite, developed at a cost of US$300 million, in October 1999 to gather information on the environment, agriculture, urban planning and water pollution. The two countries are at work on two more versions of the satellite.

The launch came six days after a rocket carrying astronaut Yang Liwei blasted off from a separate base in the Gobi Desert in China's desert northwest. Yang circled the earth for 21 1/2 hours before landing in the country's northern grasslands.

Space officials said last week following Yang's return that China plans another manned flight within two years and wants to put a space station in orbit.