Another DPRK missile test hijacks APEC summit
( 2003-10-21 14:16) (China Daily via Agencies)
Reports of another missile test of the Democratic People's Republic of Korea(DPRK) on Tuesday hijacked a Pacific Rim summit where U.S. President Bush's efforts to resolve the Korean nuclear crisis and pursue the war on terror dominated the agenda.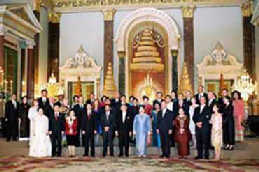 APEC leaders and their spouses pose with Thai King Bhumibol Adulyadej(C) and Queen Sirikit (5th R, blue dress) at the Grand Palace in Bangkok October 20, 2003. [Reuters]

Also vying for attention was Malaysia's Prime Minister Mahathir Mohamad, who repeated that "arrogant" Jews ruled the world.

DPRK test-fired a short-range surface-to-ship missile toward the Sea of Japan on Tuesday, the same type of missile the country test-launched on Monday, Japan's Defense Agency said.

Both Japanese Foreign Minister Yoriko Kawaguchi and defense officials said that the missile, probably a "Silkworm" with a range of up to 100 kilometers, would not pose imminent security risks to Japan.

The unconfirmed report followed the firing of a similar missile on Monday soon after Bush announced a shift in U.S. policy to persuade Pyongyang to give up its nuclear arms program and return to the negotiating table.

The new U.S. initiative aims to provide DPRK some sort of security guarantee short of the non-aggression treaty demanded by Pyongyang in exchange for concrete steps by DPRK to dismantle its nuclear weapons facilities.

Bush and South Korean President Roh Moo-hyun -- in a statement issued shortly before the report of Monday's missile -- had urged DPRK to respond and not do anything to worsen the situation.

"The two Presidents shared the view that it is desirable to hold the next round of the talks at an early date and to make concrete progress," they said.

They have not commented on the missile tests but a Japanese spokesman said in Bangkok: "We do not take this as a positive attitude on the part of North Korea."