Landmark Disney concert hall dedicated in Los Angeles
( 2003-10-21 11:00) (Xinhua)
The long-awaited architectural landmark, the Walt Disney Concert Hall, was formally dedicated at a ribbon-cutting ceremony held here Monday.
The dramatically undulating, stainless steel-clad complex, which took 16 years to build at a cost of 274 million US dollars, will be officially open on Thursday when the Los Angeles Philharmonic holds its first concert at its stylish new home.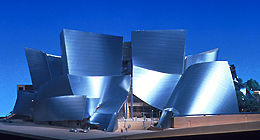 "The Walt Disney Concert Hall is a new symbol of our city," said building tycoon Eli Broad at the dedication ceremony. Broad was one of the principal fund contributors for the construction of the building.
"It will really join the Eiffel tower in Paris, the parliament houses in London and the Sydney Opera House as one of the most photographed buildings in the world," Broad said.
Designed by Frank Gehry, a top US architect, the gleaming building resembled the billow sails of a ship to reflect Gehry's twin themes of horticulture and the sea.
Speaking at the ceremony attended by Los Angeles Mayor Jimes Hahn and outgoing California Governor Gray Davis, Gehry said he tried "to make it a beautiful room to listen to music and to experience the Los Angeles Philharmonic as it's never been experienced before."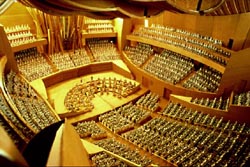 Gehry said the building's gardening theme was a tribute to animation mogul Walt Disney's widow, Lillian, who donated 50 million dollars to kick off the project in 1987.
Lillian said she wanted to create an "internationally recognizable architectural landmark" with the idea of first attracting further donors and later a well-heeled audience.
"I showed her a bowl of white roses and I said I'm going to make a flower for you. It's kind of a flower + I hope it is + for her," he said.
The hall has a stunning 2,265-seat concert chamber lined with wood and undulating ceilings and walls.
Former Los Angeles Mayor Richard Riordan, who was responsible for pushing the project in the 1990s after years of delay, said the hall is "the greatest piece of architecture built in the last 100 years."
With the dedication of the new landmark building at the city center, Los Angeles city officials hope it will become a new tourist attraction and will help revitalize the downtown area which is almost deserted at night.