Unrepentant Mahathir says Jews control world
( 2003-10-21 10:51) (Agencies)
Malaysian Prime Minister Mahathir Mohamad said in an interview published on Tuesday that widespread criticism of a recent remark he made about Jews showed "arrogant" Jews controlled the world.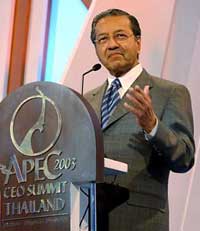 Malaysian Prime Minister Mahathir Mohamad delivers a speech during the CEO Summit of the Asia-Pacific Economic Cooperation (APEC) forum in Bangkok October 20, 2003. President George W. Bush told Mohamad his remarks about Jews controlling the West by proxy were 'wrong and divisive,' the White House said. [Reuters]

In an interview with the Bangkok Post, Mahathir accused the United States and the European Union of double standards for attacking his speech as anti-Semitic while declining to criticize Italian Prime Minister Silvio Berlusconi for saying in September 2001 that Western civilization was superior to Islam.

"The reaction of the world shows that they (the Jews) control the world," Mahathir, who steps down at the end of the month after 22 years in power, told the newspaper.

"Israel is a small country. There are not so many Jews in the world. But they are so arrogant, they defy the whole world. Even if the United Nations says no, they go ahead. Why? Because they have the backing of all these people," Mahathir said.

He said his remarks last week to an Islamic summit in Malaysia, which the United States, the EU and Australia among others denounced as anti-Semitic, had been taken out of context.

News accounts had ignored his condemnation of all violence, including suicide bombings, and his call on Muslims to heed the teachings of the Koran and talk peace with Israel.

Asked why he thought this was the case, Mahathir replied: "Well, many newspapers are owned by Jews. They only see that angle and they have a powerful influence over the thinking of many people. Only their side of the picture is given now."

Australian Prime Minister John Howard told reporters on Tuesday he opposed attempts to divide the world along religious lines.

Asked how he would treat the Malaysian leader on Tuesday, the last day of a 21-member Asia-Pacific summit both men are attending, Howard said: "I will maintain cordiality and no more with Dr Mahathir."