Israel raids in Gaza kill 10, wound 100
( 2003-10-21 08:54) (Agencies)
Israel killed 10 Palestinians, most of them civilians, in the Gaza Strip on Monday in its heaviest air strikes for months, and Prime Minister Ariel Sharon renewed a threat to remove Yasser Arafat.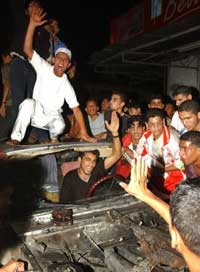 Palestinians crowd around a car after it was attacked in an Israeli air strike in the Nusseirat refugee camp, central Gaza Strip, Monday, Oct. 20, 2003. [AP]

About 100 people were wounded in five air raids over a 12-hour period, including a missile strike after dark on a roadside crowd.

The attacks followed an ambush by gunmen in which three Israeli soldiers were killed in the West Bank and the launch of eight makeshift rockets from Gaza into Israel on Sunday.

The tit-for-tat violence dealt a severe new setback to a stalled U.S.-backed peace plan and touched off new vows of revenge by the Palestinians.

In the bloodiest raid, medics said seven people were killed and at least 70 wounded in a missile attack after dark on the Nusseirat refugee camp in central Gaza. One of the dead was a 12-year-old child, they said.

One missile fired by a helicopter gunship hit a car and another slammed into a crowd of people by the road, prompting angry protests and calls for revenge, witnesses said.

"It's a massacre. They slaughtered civilians with no mercy," one protester at the scene said. Blood covered the ground near the car and the wounded lay scattered around the vehicle.

The witnesses said all the dead were civilians, although they said the car that was hit was owned by a militant.

The Israeli army said helicopter gunships had chased the car from the border fence with Israel after a group of militants tried to cross into Israel and then fled in the vehicle.

Israel carried out three air strikes in five hours in or near Gaza City earlier in the day, killing two militants and a bystander and wounding 23 people. Three people were hurt in the fifth attack, just outside Gaza City, late in the evening.

TOUGH MESSAGE FROM SHARON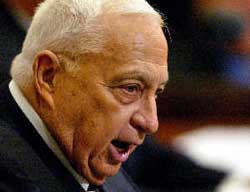 Israeli Prime Minister Ariel Sharon speaks during the opening session of the Israeli parliament in Jerusalem October 20, 2003. Sharon said that Israel was determined to 'remove' Palestinian President Yasser Arafat, reaffirming a decision taken by his government a month ago. [Reuters]

Sharon sent a tough message to the Palestinians in a speech to the Israeli parliament in which he criticized Arafat.

"This man is the biggest obstacle to peace and therefore Israel is determined to bring about his removal from the political arena," he said in his 30-minute speech interrupted frequently by heckling from left-wing and Israeli Arab deputies.

Despite his harsh words for his old enemy, Sharon said he remained committed to the U.S.-backed Middle East "road map" and even saw a real chance for progress toward a peace settlement with the Palestinians in coming months.

Sharon offered no new initiatives and reaffirmed many of his hardline policies, including the decision by his security cabinet last month to remove Arafat eventually from power.

The original threat, which did not specify when or how Israel would take action, provoked an international outcry. The United States, Israel's key ally, opposes exiling Arafat.

"Our views haven't changed...taking actions against Arafat could prove counterproductive and would not be helpful," State Department spokesman Adam Ereli said in Washington.

Chief Palestinian negotiator Saeb Erekat accused Sharon of undermining peace. Prime Minister Ahmed Qurie said the air raids would not help efforts to end three years of conflict.

"Most of those killed are civilians. Its the bloodiest and most dangerous escalation in years," Erekat said.

Israel and the United States have tried to sideline Arafat, accusing him of fomenting violence in the three-year-old Palestinian uprising for statehood, an allegation he denies.

Israeli forces have kept Arafat -- the 74-year-old symbol of Palestinian nationalism -- penned inside his West Bank headquarters for most of the last two years.

RAPID AIR STRIKES

In the heaviest morning raid, a helicopter-fired missile hit a mini-van at a traffic light in densely populated Gaza City, sending pedestrians fleeing in panic. Two Hamas militants were burned to death in the vehicle. One was identified as Khaled al-Masri, a senior member of the militant Islamic group.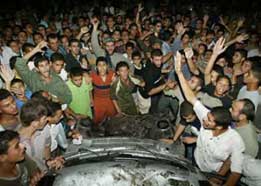 Palestinians crowd around a car after it was hit by Israeli helicopters at Nusseirat refugee camp in Gaza, October 20, 2003. [Reuters]

"We will avenge your blood," Hamas supporters said through loudspeakers as followers chanted "there is no alternative to bombings" during a funeral march. "The Zionists will soon be sorry when they feel our painful response," they shouted.

A 35-year-old man in a nearby car was also killed in the air attack and nine people were wounded, medics said.

Three hours earlier, an Israeli warplane bombed a building next to the home of Islamic Jihad leader Abdallah al-Shami.

"Suddenly we heard a big boom and it was like an earthquake, everything started to fall on us," said neighbor Rawda al-Jamal, who rushed outside carrying his wounded one-year-old son in his arms. "People were screaming and running."

The army said it had not been aiming for Shami but had destroyed a Hamas weapons workshop next door after militants fired primitive rockets into southern Israel on Sunday. The fifth strike of the day also hit the same building.