The next great leap after Shenzhou V
( 2003-10-21 08:48) (China Daily HK Edition)
As Shenzhou V's re-entry module successfully touched down in Inner Mongolia on October 16, China joined the United States and Russia to become only the third country to have succeeded a manned space flight. At the same moment, the country's space exploration programme entered a new frontier, one that will feature a space lab and station.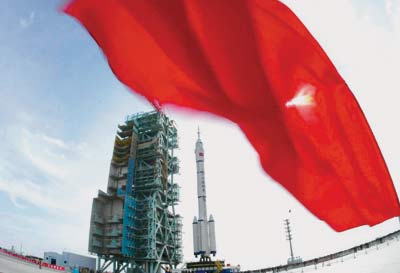 Successfully launching and retrieving a piloted spaceship is the first step in the development of China's space programme. [Xinhua]
"Successfully launching and retrieving a piloted spaceship is the first step in the development of our space programme," says Wang Yongzhi, chief designer of the country's manned space programme. "Our next step, before eventually building a large-scale space station, is to set up a space lab that will operate for a long period of time but will only require short-term manual work."
Space walks, as well as rendezvous and spacecraft docking attempts, will be carried out provided the next piloted rocket, Shenzhou VI, due to launch within the next two years, is also a success, according to a spokesman for the Manned Space Programme Office of China Aerospace Science and Technology Corp (CAST).
Zhang Qingwei, deputy chief commander of China's Manned Space Programme and general manager of CAST, says a space-based infrastructure, including the planned space lab and station, will serve as a platform for a deep space probe. The country's first manned flight will also help accelerate its lunar probe programme, he adds.
CAST, which manufactures spacecraft and launch vehicles for the programme, is already working on plans to develop the space lab and the launch vehicles and technology necessary for space rendezvous and docking.
"Although we are several decades behind the former Soviet Union and the United States in manned flight, we take pride in the technologies used for Shenzhou, all of which were developed by Chinese scientists and are on a par with the most advanced space technology of the 1990s," says Wang, the chief designer.
Since China's manned space programme was initiated in January 1992, tens of thousands of scientists, engineers and technicians from more than 3,000 institutes and organizations across China have been involved in the biggest and the most complicated programme in the history of China's space efforts. The programme is composed of seven major systems: astronauts, space application, spaceships, carrier rockets, launch bases, the monitoring and control network, and landing bases, all vital to the success of manned flight.
The spaceship and astronaut systems in particular have riveted the public's attention. "Our spaceship is more comfortable and has many advantages over similar foreign spaceships," says Qi Faren, chief designer of Shenzhou V. China's spaceship utilizes the three-capsule design, bypassing the single and double module stages.
Shenzhou's re-entry capsule measures 2.5 metres in diameter, making it larger than the 2.2-metre Russian Soyuz TMA spaceship currently in use. The capsule is designed to accommodate three astronauts, with enough room for them to work comfortably together in the cabin or the orbit module where they can carry out scientific experiments, Qi says.
Powered by two large solar panels, Shenzhou's orbit module can continue to function for more than six months following the return of the re-entry module. "It can also be used for rendezvous and docking with other spacecraft sent out within that half-a-year time period, which would save a lot of money on a separate launch," Qi told the reporter.
The other key component to ensuring that the spaceship is handled perfectly and safely throughout the flight is choosing the right astronaut, or astronauts as the case may be, to realize the nation's space dreams, says Su Shuangning, commander of the astronaut training programme.
Yang Liwei, now a colonel in the People's Liberation Army, was selected for space flight training, along with 13 others, from among 1,500 pilots. A former fighter pilot with 1,350 hours of flying time, Yang excelled throughout the five years of ordeals and studies in psychological and physical conditioning he underwent to emerge full of confidence that the mission would be a success. He completed his space voyage as the first Chinese astronaut flawlessly and came back in good shape, says Su.
Investment in research and development for the manned flight over the past 11 years has been immense, with a total of 18 billion yuan ($2.18 billion) being injected into the project, according to official statistics. Most of the money, however, was spent on infrastructure and basic facilities, while construction of the Shenzhou spaceships cost less than 5 billion yuan ($602 million) altogether, says Qi, adding that a single launch of a space shuttle by the United States costs nearly as much as China's entire programme.
Nevertheless, many scientists believe that the country will ultimately see the investment pay off.
According to Gu Yidong, commander and chief designer of the space application system, each launch of the Shenzhou spaceships has yielded a wealth of scientific information and led to the development of a series of new techniques and methods in the fields of space-remote sensing, astronomical observation, earth environment monitoring, micro-gravity liquid physics, space life science and material science, and the monitoring and forecasting of the space environment.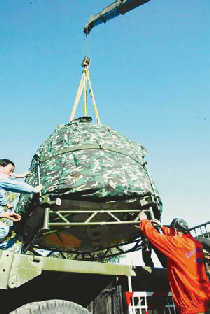 The returned capsule is loaded for an official ceremony in Beijing on October 17. [Xinhua]
"The many experiments conducted aboard Shenzhou spaceships have provided important data crucial to future studies in life science and material industry," Gu says.
Space application in the second phase of China's manned space programme - establishing a lab in space - will be even more remarkable, especially as the role of human beings in the space lab is gradually enhanced with short visits to perform needed manual labour involving operations, maintenance and management, he notes.
"This is a necessary procedure we must go through before we can use space stations as ideal scientific experiment bases and perhaps also as special processing centres for industrial materials and drugs," explains Gu. He adds that the United States has already compiled a list of dozens of products that could be produced in space, while astronauts from the former Soviet Union and Russia have completed 14,500 scientific experiments at space stations.
"After our own space station is established, the Shenzhou will become the 'shuttle bus' between space and Earth," says Qi Faren, the rocket's chief designer. "It can even take tourists into space," he adds with a smile.
Group of young talents The safe return of the Shenzhou V manned spacecraft to earth created valuable wealth in human resources, equipment and culture, said Qi Faren, chief designer of the spacecraft, on October 18.
Qi said at a symposium that the launch of the Shenzhou space capsules had trained a large group of young scientists and engineers. Commander-in-chief of the spacecraft system Yuan Jiajun was only 41 years old, and many vice-engineers were in their early 40s.
"Fostering this group of young talent is a precious achievement of the project," he said.
Eighty per cent of the staff of the seven systems of the project were below 40 years old.
Another valuable contribution of the project was a world-class research centre of space technology in Beijing, which was established in just four years and 60 per cent under budget.
"The research centre laid a solid foundation for future achievements in terms of infrastructure," he said.
After a decade, the thousands of space scientists and engineers had nurtured a "zero error" culture, which accounted for every possible circumstance and guaranteed the astronaut's safety, Qi said.
Yang's 'space assistant'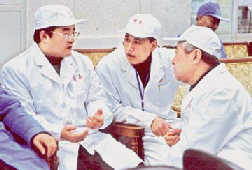 Zhang Qingwei (left), deputy chief commander of China's Manned Space Programme, Yuan Jiajun (centre), commander-in-chief of the spacecraft system, and Qi Faren, chief designer of Shenzhou V, at the launch site in Jiuquan. [China News Service]

A set of instruments, known as the "electronic secretary", in China's first manned spacecraft provided detailed data and spoken instructions for the country's first astronaut in space.

Experts with the China Aerospace Science and Technology Corp (CAST), manufacturer of the spacecraft, described the system, which included three display panels, six meters, a computer system and a group of buttons.

Yang Liwei returned to Earth safe and sound on Oct. 16 after orbiting the planet 14 times in a Chinese-made spacecraft.

The electronic assistant provided him with data coming from inside and outside the capsule and alert messages in Chinese characters and voice instructions.

Graphics like the world map and the position of the spacecraft were available on the display panel at the push of a button.

The data included the altitude, speed, flight time, temperature and humidity and status of various systems inside the capsule as well as the physical condition on the astronaut.

The electronic device would alert the astronaut in both Chinese characters and short, clear and artificial mezzo-soprano voice instructions if data were not up to preset standards.

A stand-by electronic assistant was installed in the capsule, including a display panel and a computer system, said the experts.

A video monitor system in the capsule was also capable of providing much of the data if the two computer systems failed.