Hu: Economic target "well within reach"
( 2003-10-19 15:09) (Xinhua)
China's target of a 7 percent economic growth set for this year "is well within reach," Chinese President Hu Jintao told Pacific Rim business leaders on Sunday.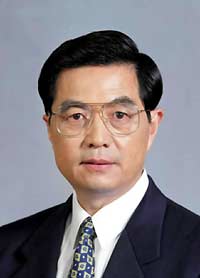 "China's economy remains in good shape with a strong momentum for expansion," Hu said in a keynote address at the ongoing CEO Summit of the Asia-Pacific Economic Cooperation (APEC) forum.
He said the past year had witnessed some heartening signs in global economy, but many uncertainties persist before a steady growth can take hold.
"Given this background, government and business leaders of all countries must take it as their critical task to improve the environment for economic development and promote a sustained economic growth through effective policies and measures," the Chinese president said.
He listed a series of policies and measures taken by China in recent years to enhance its economic vitality and to promote a sustained social and economic development.
These included the furthering of market-oriented reforms; the expansion of domestic demand and a proactive fiscal policy and a prudent monetary policy; the implementation of the strategy of revitalization of the nation through science and education, that of sustainable development and that of developing the western region; intensified efforts in the development of public health, education and culture, the strengthening of the social security system and environmental protection and the promotion of social justice and progress; and the widening of all-dimensional opennessto the outside world and the active participation in globalizationand regional economic integration.
When the country reaches its goal for the first two decades of this century -- to build a well-off society of a higher standard in China for the benefit of its over 1 billion people -- China will have completed its industrialization by and large and put into place a well-developed socialist market economic system, Hu said.
However, "there are some outstanding problems in our economy that need to be tackled without delay, such as inadequate economicstructure and industrial structure, mounting pressure of employment and social security and weakness in the protection of our ecosystem."
"We are taking some steps to address these problems," Hu said, expressing the belief that China will gradually translate its goals for modernization into reality and make greater contributions to regional and global economic development.
*** China's growth benefits world economy
Hu said that China's reform and opening up and its economic growth present win-win outcomes and mutual benefit for the whole world.
Hu said China's opening up has won the country broader room for development, and has made it possible for China to acquire the important resources of capital, technology and managerial expertise.
"But at the same time, our 1.3 billion people also represent a tremendous market that we have to offer to the rest of the world. And China also offers much business opportunity to the multinationals in the whole world," he added.
"China will continue to take an active part in global and regional economic cooperation, faithfully play by WTO rules and live up to our WTO commitment," the Chinese president said.
He expressed the confidence that "a China that is going for reform and opening up and an economically growing China will always be a positive force for stable development of the economies of Asia Pacific and the world beyond."
About 1,000 representatives and business leaders of APEC member economies were present at Hu's address, which covered the valuation of the Chinese Renminbi yuan, the situation of China's economic growth, economic and technical cooperation among APEC members, and reviving the stalled multilateral talks of the Doha Round under the World Trade Organization.
Hu stressed that a stable Renminbi yuan serves the sound operation of China's economy and conforms to the requirements for economic development in Asia and the whole world.
He said China would maintain the basic stability of the Chinese currency RMB at a reasonable and balanced level, and take further steps to improve the rate-forming mechanism of RMB amid deepened financial reform.
"China follows a market-based, single and managed floating exchange rate system, which is consistent with the current status of China's economy, its level of financial regulation and the sustainability of its enterprises."
On China's economic performance, Hu said the country's target of a 7 percent GDP growth set for this year "is well within reach. "
"China's economy remains in good shape with a strong momentum for expansion," Hu said.
The Chinese president, who will attend the 11th APEC Economic Leaders' Meeting scheduled here for Monday and Tuesday, urged member economies of APEC to strengthen their economic and technical cooperation to help turn potential markets into real ones.
"We should vigorously strengthen APEC economic and technical cooperation, for it contributes to faster economic growth of the developing members and helps them to turn their potential market into a real one," Hu said.
"It also benefits the developed members by securing them even greater market access, leading in the end to the achievement of common development and common prosperity of all members," he added.
Hu said that APEC can play a positive role in restarting the stalled multilateral trade talks of the Doha Round by keeping the forum's goals set in Bogor, Indonesia, 1994, of establishing free trade between its developed economies by 2010 and its developing members by 2020.
"Though the Doha round of WTO talks suffered some setbacks, so long as all parties persist in consultation on an equal footing in the spirit of seeking common ground while shelving differences, it will be successful in the end," the Chinese president said.