Chief designer on Shenzhou V
( 2003-10-19 09:20) (Xinhua)
The safe return of the Shenzhou V manned spacecraft to earth created valuable wealth in human resources, equipment and culture, said Qi Faren, chief designer of the spacecraft, on Saturday.
Qi said at a symposium that the launch of the Shenzhou space capsules had trained a large group of young scientists and engineers. Commander-in-chief of the spacecraft system Yuan Jiajun was only 41 years old, and many vice-engineers were in their early 40s.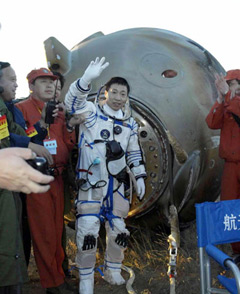 Yang Liwei, China's first space man gets out of the return capsule for Shenzhou V after spending 21 hours in space. [Xinhua]

"Fostering this group of young talent is a precious achievement of the project," he said.

Eighty percent of the staff were below 40 years old.

Another valuable contribution of the project was a world-class research center of space technology in Beijing, which was established in just four years and 60 percent under budget.

"The research center laid a solid foundation for future achievements in terms of infrastructure," he said.

After a decade, the thousands of space scientists and engineers had nurtured a "zero error" culture, which accounted for every possible circumstance and guaranteed the astronaut's safety, Qi said.

***Secret "cargo" on Shenzhou V revealed

The secret "cargo" on China's first manned spacecraft was revealed at an opening ceremony of the spacecraft's re-entry vehicle Saturday in Beijing.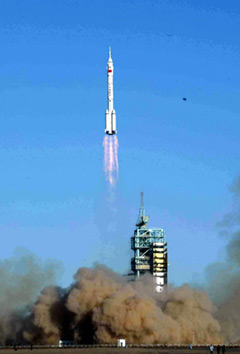 Shenzhou V blasts off into space.
The items aboard the Shenzhou V included China's national flag, a flag of the Beijing 2008 Olympics, the United Nations flag, a Renminbi note, memorial stamps for China's first manned spaceflight, memorial envelopes of the manned spaceflight project and crop seeds from China's Taiwan Island.
The cargo had traveled with China's first astronaut in space, Lt. Col. Yang Liwei, for over 20 hours and were returned to their owners at Saturday's ceremony.
The re-entry vehicle of Shenzhou V was taken to Beijing Friday afternoon after the successful landing in central Inner Mongolia Autonomous Region, north China.