Ford invests US$1 billion in China
( 2003-10-17 16:30) (Agencies)
U.S. auto giant Ford Motor Co said on Friday it would boost investment by more than $1 billion in China over the next few years to expand output seven-fold in the world's fastest-growing major car market.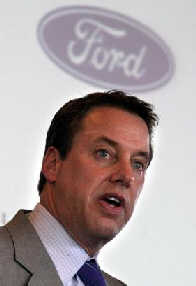 Ford CEO Bill Ford speaks during a news conference in Beijing, China, Friday, Oct 17, 2003. Ford annouced that the U.S. auto giant Ford Motor Co. will invest in a US$1 billion expansion of its China manufacturing operations that will permit it to produce up to 150,000 cars a year, up from just 20,000 now. [AP]

Production at its joint venture Chongqing Changan Automobile Co Ltd would rise to 150,000 units from 20,000. Investment plans include a second car plant and an engine unit, the company said, without giving details.

"The automotive future of China is very bright and we are participating fully in its growth," Chief Executive Officer Bill Ford told a news conference.

"The Ford Motor Company will invest an additional $1 billion to $1.5 billion in the Chinese automotive market over the next several years," said Ford, the great grandson of car pioneer Henry Ford, who sold his first Model T on the mainland in 1913 before World War II cut short his China dream.

But the firm is considered a relative latecomer to the modern Chinese market, launching its first Fiesta car to much fanfare in January this year.

It entered a segment dominated by Volkswagen AG, which already controls more than a third of the market, and arch-rival General Motors Corp, which commands about eight percent. Ford declined to reveal its China market share.

Ford and GM have been slugging it out at home and are now taking their battle to China. Ford is fleshing out its offerings with luxury sedans and sport-utility vehicles.

LUXURY CARS

Ford, whose firm posted a smaller-than-expected quarterly net loss of one cent a share on Thursday, said he intended to make and sell a full range of luxury cars in China, but declined to give a timeframe. Its brands include Lincoln, Mercury, Land Rover, Volvo, Jaguar and Aston Martin.

Car sales in China smashed the one million-unit barrier last year and were expected to rise to some two million sedans this year. But analysts warn that unfettered capacity expansions could foment a serious glut that will erode margins.

"Of course, trees don't grow to the sky, and some day the growth will actually start to slow down, but I do think this is going to be for a long time a very dynamic market," Ford said.

As a U.S.-based investor in China, Ford said exchange rate stability was very important. American business and labor groups have asked the Bush administration to pressure China into revaluing its yuan currency also known as the renminbi.

"We deal with exchange rates all around the world," he said. "The one thing that really hurts us is big swings in currencies."

Ford, which rolled out its Maverick and Mondeo models in China this year, has said it planned to launch a new model each year on the mainland.