N.Korea says ready to display 'nuclear deterrent'
( 2003-10-17 11:25) (Agencies)
North Korea said Thursday it would display a "nuclear deterrent" at an appropriate time to end debate over its nuclear status if the United States delayed a solution to an impasse over Pyongyang's atomic ambitions.
In comments published in English by the official KCNA news agency, a North Korean Foreign Ministry spokesman criticized calls for a fresh round of six-way nuclear talks, saying such discussions were meaningless unless Washington dropped its hostility toward Pyongyang.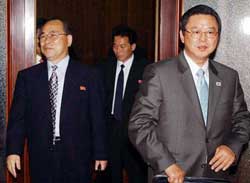 North Korean official delegate Choi Sung IK (L) and his South Korean counterpart Shin En-sang (R) come out from a room of the 12th Inter-Korean Ministerial Talks, at the Koryo hotel in Pyungyang, North Korea, Wednesday, Oct. 15, 2003. [AP]

"When an appropriate time comes, the DPRK will take a measure to open its nuclear deterrent to the public as a physical force and then there will be no need to have any more argument," the ministry spokesman said, noting some people doubted the North had nuclear capability.

U.S. officials said that on the sidelines of talks in Beijing in April, a North Korean envoy had threatened that Pyongyang would demonstrate a nuclear weapon.

But Thursday's statement, the first time the North made the threat public, did not spell out how North Korea might display its "deterrent."

Early this month, Pyongyang said it had redirected plutonium extracted from thousands of spent nuclear fuel rods to help enhance its deterrent force.

The statement -- issued on eve of a tour of Asia by President Bush -- appeared to reject comments by Secretary of State Colin Powell that Washington had drafted new ideas on security assurances to offer to North Korea.

Powell said last week the United States envisaged a public written document, preferably signed by some of North Korea's neighbors, but not the formal non-aggression treaty which Pyongyang has demanded since the crisis erupted a year ago.

RHETORICAL BUILD-UP?

North Korea said it was not sure whether the U.S. idea was "a jugglery intended to shirk its responsibility for settling this issue between the DPRK and the U.S. or an artifice to buy time to win the presidential election in 2004."

If the United States put off dealing with the issue, "during that time the DPRK will have enough time to perfect and strengthen necessary means which has already been opened to the public," the spokesman said.

China, Russia, the two Koreas, Japan and the United States held an inconclusive first round of talks in Beijing in late August.

All sides pledged to avoid steps that would aggravate the year-old dispute and all the parties except North Korea said they sought another round of talks.

"There is still no change in the DPRK's stand that it will not stick to the format of dialogue if the U.S. shows a will to make a switchover in its policy toward the DPRK and truly intends to co-exist with it," DPRK said.

In inter-Korean ministerial talks in Pyongyang Wednesday, South Korean Unification Minister Jeong Se-hyun's urged the North to avoid escalatory statements and take a "more forward-looking approach" toward diplomatic discussions on the crisis.

But North Korean senior cabinet councilor Kim Ryong-song rebuffed Jeong, blaming the impasse on Bush, who listed North Korea with Iran and pre-war Iraq as an "axis of evil" threatening global security.