Anti-government protests sweep Bolivia
( 2003-10-16 11:41) (Agencies)
Bolivia's president went on national television Wednesday to propose a referendum on a gas-export plan that has sparked three weeks of deadly protests across South America's poorest nation.
President Gonzalo Sanchez de Lozada said he would let Bolivians decide on the deal. Earlier on Wednesday, thousands of anti-government demonstrators marched in major cities around Bolivia to call on the president to resign, and clashes in the city of Patacamaya killed two people.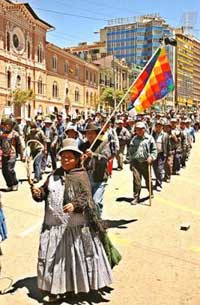 Protesters march demanding the resignation of President Gonzalo Sanchez de Lozada in La Paz, Bolivia on Wednesday, Oct. 15, 2003. [AP]

"We want to know what the people think," Sanchez de Lozada said. "We believe (this project) will be very positive for the future of Bolivia."

Sanchez de Lozada claimed that outrage over the plan was the work of "anarchists and narcos" who want to topple his government. He didn't elaborate and showed no sign he would think of stepping down amid the worst political and social crisis in Bolivia since the return of democracy in 1982.

"We want to bring order and respect for the constitution," he said.

Some of the worst violence Wednesday was in Patacamaya, 60 miles west of La Paz, where two people were killed and nine hurt, radio and TV reports said.

Independent Radio Erbol and private broadcaster TV 21 said troops fired tear gas and live ammunition at the column of buses carrying marchers, who responded by tossing lit sticks of dynamite.

The military eventually halted the march after demonstrators agreed to suspend the protest in exchange for the release of several detained comrades.

Human rights groups and local media have reported up to 65 deaths in three weeks of street clashes between mostly Indian demonstrators and troops. Authorities have reported at least 16 deaths.

About 1,000 people marched through La Paz, joining scattered demonstrations by thousands of poor Indians, union workers, and street vendors. After nightfall, police fired tear gas to disperse a smaller group of demonstrators during one flare-up in tensions, but there were no injuries and calm was restored quickly.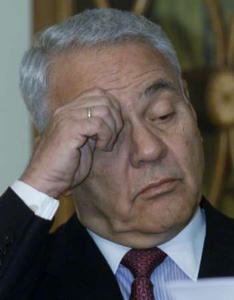 Bolivian President Gonzalo Sanchez de Lozada pauses during a press conference after analyzing ways to end the four-week wave of protests against the government's plans to export natural gas to the United States through a Chilean port, in the presidential residence in La Paz, Oct. 15, 2003. [Reuters]

The capital was emptied of traffic Wednesday, and schools, shops, banks and businesses closed. Protesters manned barricades of burning debris on major highways, shutting down La Paz and the capital's sister city of El Alto.

Thousands more crowded the downtown plaza in Cochabamba, in southeastern Bolivia.

"Viva Bolivia!" demonstrators shouted in Cochabamba. Marchers tossed rocks and Molotov cocktails at government troops, torching a police office.

Many voiced opposition to the president's plan ¡ª now suspended ¡ª to export natural gas from southern Bolivia's underground reserves to the United States and Mexico. Critics claim the project would only benefit the wealthy.

Opponents also objected to the use of neighboring Chile as the main port of export and argued the $5 billion project would only benefit the country's wealthy. But supporters say the plan, which the president temporarily shelved on Monday, would raise badly needed revenue.

A 27-year-old unemployed worker, Victor Raiz, watched protests Wednesday and said he thought the only sure solution was for the president to resign.

"The people are no longer with him," Raiz said.

Protests spread to the western city of Oruro and the southern city of Sucre, once the country's colonial capital. Thousands of peasants moved to blockade the four major highways leading into Sucre.

Bolivia's poor Indian majority has grown increasingly disenchanted with free market reforms and U.S.-backed plans to eradicate coca, the plant that is the raw material for cocaine but is also chewed to stave off hunger and as a natural stimulant in the Andean mountain nation.

Pressure against Sanchez de Lozada has also arisen from within his ruling coalition government.

Manfred Reyes Villa, a key member of the governing coalition, said he urged Sanchez de Lozada to call a referendum on the gas export plan and a legislative assembly "to help calm the country."

But Evo Morales, the most powerful Indian opposition leader, said the president had to step down to avoid further conflict.

A U.S.-educated millionaire, Sanchez de Lozada served as president from 1993 to 1997. Now 73, he took office for a second term in August 2002 after narrowly defeating Morales, a radical congressman. He has the backing of the U.S. government.