Palestinians dread America's wrath after bombing
( 2003-10-16 08:50) (Agencies)
Palestinians said they feared retribution from the United States after three American security guards were killed in a bomb attack on a U.S. embassy convoy in the Gaza Strip Wednesday.
The blast occurred on the edge of the large Jabalya refugee camp near Gaza City, a stronghold for Palestinian militants involved in a three-year-old uprising against Israel for statehood that began after U.S.-brokered peace talks collapsed.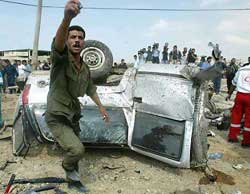 A Palestinian policeman shouts at onlookers in front of a destroyed vehicle after an apparent roadside bomb attack in the Gaza Strip October 15, 2003. Four security guards were killed in the attack against a convoy of U.S. diplomatic vehicles in the Gaza Strip, Israel Radio reported. [Reuters]

"We wonder what (U.S. President George W.) Bush will do now," lamented Ahmed, a worried resident of Jabalya. "I guess he is mad at us."

The convoy targeted by a roadside bomb was heading to Gaza City where a cultural attache was due to interview Palestinian students hoping to receive scholarships for post-graduate studies in the United States, Palestinian officials said.

"They were coming to do interviews in order to evaluate candidates. I condemn the act completely and I believe all Palestinians are against it and reject it," said Reyad al-Agha, head of Gaza City's al-Azhar University.

"I do not know who was behind this but it certainly aimed ... to undermine and worsen the relationship between Palestinians and Americans," he told Reuters.

Militant groups denied responsibility for the bombing -- a rare attack on foreigners in the uprising -- and it was condemned by Palestinian officials including President Yasser Arafat, who said he had ordered an investigation.

A cord used to detonate the bomb stretched more than 330 feet away from the wreckage of the U.S. Chevrolet jeep toward a factory zone at the edge of the refugee camp.

U.S. 'BIASED' BUT NOT ENEMY FOR MOST PALESTINIANS

"It (the bombing) could have happened by mistake. Maybe the target was Israeli tanks who frequently raid our areas. But we fear the U.S. will react through Israel's army," said Mohammed Mesleh, a municipal worker among onlookers at the bombing scene.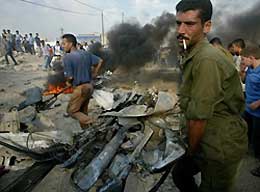 A Palestinian police officer carries away a part of the wreckage of a U.S. embassy car as a fire burns from petrol near the village of Beit Hanoun in the nothern Gaza Strip Wednesday Oct. 15, 2003. [AP]

"The attack could have taken place because the United States has gone so far in its bias and support for Israel. America is not silent any more regarding Israeli policies against us, but a supporter of these policies," he said.

Palestinians often accuse the United States of taking Israel's side in the intractable Middle East conflict.

U.S. flags and effigies of Bush are sometimes burned at protests and pictures of Washington's enemies, including former Iraqi President Saddam Hussein and Osama bin Laden, the head of al Qaeda, have been waved during rallies.

Six U.S. investigators who arrived under Palestinian police escort to examine the scene of the bombing were forced to leave after youths from Jabalya stoned them and their vehicles.

But most Palestinians do not regard Americans as enemies and would not support violence that might alienate them.

In August, Bush said Washington would provide $26 million in urgent assistance to Palestinian refugees in the near future. About 70 percent of the 1.2 million Palestinians packed into the tiny Gaza Strip are war refugees or their descendants.

"It is not ideal to win America's enmity but unfortunately many people all over the world are extremely angry at U.S. policies against the Palestinian people," said tailor Imad Taha.