Japan to give $1.5B to Iraq reconstruction
( 2003-10-15 16:20) (Agencies)
Ahead of a visit by President Bush, Japan announced Wednesday it will contribute $1.5 billion next year for the reconstruction of Iraq.
The $1.5 billion, announced by Chief Cabinet Secretary Yasuo Fukuda, would go toward electricity, education, water and health support.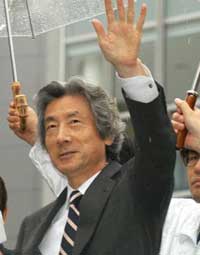 Prime Minister Junichiro Koizumi waves to thousands of crowds as he campaigns for the Nov. 9 general elections at Tokyo's Shibuya JR station Tuesday, Oct. 14, 2003. [AP]

Media reports have said the sum would be the first installment of a package expected to reach a total of $5 billion over the next four years. But Fukuda said medium term aid was still under consideration.

"Iraqi reconstruction is an extremely important issue for the entire international community," Fukuda told a news conference.

Bush and Japanese Prime Minister Junichiro Koizumi are due to meet Friday, when Bush stops in Tokyo en route to an Asia-Pacific Economic Cooperation forum in Bangkok, Thailand.

The Japanese government said it would set aside the $1.5 billion for next year. The media have reported that an amount of $5 billion, to be extended from 2004 through 2007, would be formally announced at an aid meeting in Madrid next week.

Tokyo's total contribution would account for about 10 percent of the reconstruction bill estimated by the World Bank. But it falls short of the $13 billion that Japan chipped in during the 1991 Gulf War.

The figure also was lower than the $2 billion previously expected, reportedly due to concerns in the government over making such a large contribution amid this country's fiscal woes caused by its ongoing economic slowdown.

Japan also has promised to send troops to Iraq in addition to money. It is reportedly considering sending them to Basra and Nasiriya, two cities in southern Iraq with a relatively stable security situation.