Bolivia calls for calm as revolt chokes La Paz
( 2003-10-15 09:51) (Agencies)
Bolivia's embattled government appealed for calm on Tuesday as thousands of miners, peasants and farmers marched toward La Paz to join a popular revolt as the death toll in clashes with troops hit 53.
Rights officials said at least one worker was killed in the suburb of El Alto as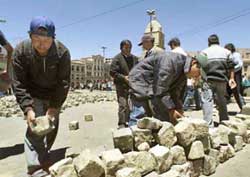 Bolivian demonstrators build a barricade in the San Francisco square in La Paz, Oct. 14, 2003.
[Reuters]

thousands protested unpopular President Gonzalo Sanchez de Lozada's free market policies and failure to tackle endemic poverty in South America's poorest country.

The protests of the past month, which have choked food and fuel supplies into the paralyzed capital, were sparked by plans to export natural gas to the United States, with many Bolivians fearing the benefits would not reach the broad population.

The president shelved the gas project on Monday, but opposition to the gas plan exploded to include a myriad of other gripes in an economy that has been stagnant for the past 20 years. A total of 60 percent of the population scrape by on $2 a day or less.

Miner and peasant leaders said columns of protesters, some of whom have been marching for two days, were on Wednesday expected to reach La Paz -- where tires are burning in streets strewn with barricades of rocks erected by protesters.

"We call (on the protesters) to stop being belligerent and not take part in violent confrontations," presidential spokesman Mauricio Antezana appealed to the marchers.

Sanchez de Lozada has rejected widespread demands to step down, but a key member of his crumbling coalition suggested on Tuesday it might be the only way to keep the death toll from going higher.

"If the solution to preserving democracy comes with his resignation, then we can't rule that out," Manfred Reyes Villa, a populist who heads the New Republican Force, told reporters.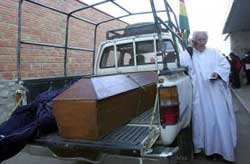 Catholic priest Sebastian Obbermeyer tries to locate relatives of dead people at the morgue of Hospital de Torax in La Paz, Bolivia in La Paz, Bolivia on Tuesday, October 14, 2003. [AP]

The army of coup-prone Bolivia has stated its support for Sanchez de Lozada, who has an approval rating of just 9 percent according to recent polls.

TENSION HIGH

Foreign journalists arriving at La Paz airport had to bicycle for 90 minutes into the mountain capital since fuel shortages and blockades kept vehicles off the streets. Protesters hissed and threw stones at them on the outskirts.

Three babies have died in a La Paz hospital due to a shortage of oxygen, doctors said on Tuesday. Teachers and transportation workers are on strike.

However Tuesday's protests were a relative calm compared to clashes in and around La Paz on Monday that Bolivia's Permanent Human Rights Assembly said killed at least 14 people.

The unrest has been spearheaded by Bolivia's indigenous majority, who say they have been further impoverished by the government's highly successful, U.S.-sponsored program to eradicate coca, the raw material used to make cocaine.

"It is the government that has left the country in convulsions with this massacre -- Sanchez de Lozada and his cabinet, better known as the butchers of Bolivians," Evo Morales, Bolivia's most powerful Indian leader, told Reuters in an interview calling for the president to quit.

Felipe Quispe, another indigenous leader, is in hiding.

"I have gone underground so that the president shall not exterminate us like the Spanish did our forefathers during the conquest," he told respected Swedish newspaper Dagens Nyheter by telephone, saying he planned to establish a "new Bolivia."

Resentment runs deep in this landlocked Andean nation, where up to 8 million Indians and slaves died working in silver mines during hundreds of years of colonial Spanish rule.