Shenzhou V blasts off into space at 9:00am
( 2003-10-14 00:19) (chinadaily.com.cn)
China's first manned spaceship, the Shenzhou 5 (Divine Vessel V) blasted off into space at 9:00 am Wednesday morning, with 38-year-old astronaut Yang Liwei, an air force pilot since 1983, sitting in the ship who is lauded as "China's First Space Man".
About 10 minutes after 9:00 am, China's CCTV reported that the spaceship went into the earth's orbit, about 350 kilometres above the planet, where the ship will orbit the earth 14 times which will take roughly 23 hours. Shenzhen 5 is expected to land at a grassland in the Inner Mongolia Autonomous Region in the early hours on Thursay Beijing time.
CCTV broadcast the launch of the rocket 20 minutes after the blast-off at Jiuquan Satellite Launch Centre in northwest China's Gansu Province. On Tuesday, CCTV decided to drop its original plan of live telecast.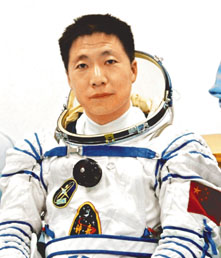 Yang Liwei

According to Dahe Pao newspaper of Henan Province, at 5:30 am Wednesday, Chinese top leaders, including President Hu Jintao and Central Ministry Commission chairman Jiang Zemin, met Yang Liwei, escorted by a few other fellow astronauts and officials.

At the solemn sending-off ceremony, Yang took an oath: "I will not fail the expectations of all Chinese people and the motherland."

Yang Liwei was selected from a group of three finalists. In the past few days, they engaged in relevant operations and tests within the Shenzhou 5 spaceship, mainly ways to escape and survive when unexpected hazards happen.

***ĦĦTop rocket sends manned craft aloft


China used its top rocket, the Long March CZ-2 F, to launch its first manned space flight, an official with China's space programme said yesterday.
Huang Chunping, commander-in-chief of rocket systems, said the CZ-2 F was developed based on the Long March CZ-2 E to accommodate the technical requirements of human space flight.
With the application of 55 breakthrough technologies, including fault-detection and escape systems, the spacecraft and rocket both have reached advanced international levels, Huang said.
The rocket measures 58.3 metres, with a takeoff payload weight of 479.8 tons. It is the longest and heaviest rocket China has ever developed, Huang said.
It has so far sent four unmanned Shenzhou spaceships into pre-set orbits in space.
"The rocket that will launch the Shenzhou-5 spaceship is the best of all,'' he said. "It is of superior quality and has stood our most stringent testing,'' Huang noted.
Gu Yidong, director and chief designer of the space application system in the space flight programme, told Xinhua that the ultimate goal for China's programme is to explore outer space and make good use of the rich resources of space.
Gu, who also directs the Space Science and Application Research Centre at the Chinese Academy of Sciences, said the universe is abundant with energy and resources, while mankind, on its way to self-improvement and development, must constantly seek new channels to acquire more resources.
Since the 1970s, many countries have conducted experiments in space and have achieved major breakthroughs in the research of key space technologies.
Gu points out that the United States had led the world in turning space research into industrial technologies. They have developed, tested and perfected the breakthroughs in the US space programme, and applied them in US industries and helped bring an estimated US$2 trillion return for the American economy.
It is expected that US investment in its space industry will reach US$500 billion to 600 billion by the year 2010.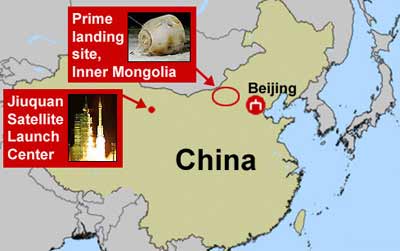 Since 1975, China has successfully launched 17 recoverable satellites. When those satellites have orbited the earth, a variety of space-engineering experiments have been conducted, along with tests in areas like agriculture, life sciences and space materials.
The United States and Russia have both set up space stations or spaceships. Products like semiconductors, optical glass, pottery and a variety of alloys have been produced in space.
The United States is capable of producing dozens of products in space, while Russia has conducted 14,500 experiments in orbit, Gu said.
In order to be able to share space resources with other countries as soon as possible, China has been vigorously developing its manned space programme, Gu said, explaining that sending a human into space is just a "first step'' for China's ambitious space programme.
"The second phase involves more advanced technologies such as space rendezvous and docking, and will include the establishment of an outer space laboratory system,'' he said.
Su Shuangning, chief designer of China's astronaut support systems, said the space suits China has designed for its astronauts to wear are "as safe and as reliable'' as Russian or American models.
SUIT: Safe and reliable, suits made for astronauts
He said the intravehicular suits are made of materials developed independently.
"In design, ours do not differ much from space suits made in Russia or the United States, but we have made a range of modifications,''
There are two types of space suits: intravehicular and extravehicular. The Chinese astronaut (or astronauts) will not step outside the capsule in the first space journey, and so only the intravehicular space suit is provided.
"The intravehicular space suit is used to protect astronauts when accidents happen, say a leakage that causes the air pressure inside the spacecraft to plummet,'' Su said.
Should that happen, he continued, the astronaut can put on the suit and connect it to the oxygen and air-supply systems aboard, making oxygen supply available and bringing inner-suit air pressure back to normal. "This will help the astronaut make a safe return,'' he said.
The space suit consists of three layers, according to the expert.
The outside protective layer is made of a fabric good enough to resist extreme temperatures and abrasion to protect inner layers. It also functions to ensure the suit is inflated to conform to the shape and comfort of the astronaut.
The air-tight layer is made of a fabric coated with special materials, which prevents air leakage after pressurization. The cooling and ventilation layer diverts heat and vapor produced from human metabolism out of the suit.
The helmet is made of a polycarbonate material,is heat- and sound-insulating, and protects the astronaut from harm done by possible collisions. It has a ventilation device and a visor anti-fogging coating.
Gloves fit the suit with great flexibility and warming capability, according to Su.
An astronaut does not need to wear the space suit when the spaceship is orbiting, he said, except when there are pressurization problems with the spacecraft.