Bin Laden son plays key role in Al Qaeda
( 2003-10-14 17:08) (Agencies)
Saad bin Laden, one of Osama bin Laden's oldest sons, has emerged in recent months as part of the upper echelon of the al Qaeda network, a small group of leaders that is managing the terrorist organization from Iran, according to U.S., European and Arab officials.
Saad bin Laden and other senior al Qaeda operatives were in contact with an al Qaeda cell in Riyadh, Saudi Arabia, in the days immediately prior to the May 12 suicide bombing there that left 35 people dead, including eight Americans, European and U.S. intelligence sources say. The sources would not divulge the nature or contents of the communications, but the contacts have led them to conclude that the Riyadh attacks were planned in Iran and ordered from there.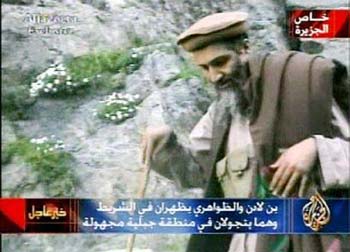 A video grab image from Al Jazeera television shows what it described as new footage of al Qaeda leader Osama bin Laden, shot in an unknown location, and shown on September 10, 2003. The footage was aired along with a separate audio tape in which another al Qaeda leader, Ayman al-Zawahri, urged more attacks on the United States. [Reuters]
Although Saad bin Laden is not the top leader of the terrorist group, his presence in the decision-making process demonstrates his father's trust in him and an apparent desire to pass the mantle of leadership to a family member, according to numerous terrorism analysts inside and outside government.
Like other al Qaeda leaders in Iran, the younger bin Laden, who is believed to be 24 years old, is protected by an elite, radical Iranian security force loyal to the nation's clerics and beyond the control of the central government, according to U.S. and European intelligence officials. The secretive unit, known as the Jerusalem Force, has restricted the al Qaeda group's movements to its bases, mostly along the border with Afghanistan.
Also under the Jerusalem Force's protection is Saif al-Adel, al Qaeda's chief of military operations; Abdullah Ahmed Abdullah, the organization's chief financial officer; and perhaps two dozen other top al Qaeda leaders, the officials said. Al-Adel and Abdullah are considered the top operational deputies to Osama bin Laden and his second-in-command, Ayman Zawahiri, who communicate with underlings almost exclusively through couriers.
The presence of Saad bin Laden and other al Qaeda leaders in Iran has become part of a debate within the governments of the United States and Saudi Arabia over the best way to reduce Iranian support for terrorism. U.S. officials have sent stern warnings to the government of President Mohammad Khatami that Iran's harboring of senior al Qaeda operatives would have repercussions for a nation the Bush administration has labeled part of the "axis of evil."
Intelligence officials believe that although the State Department is eager to renew talks with Iran on a variety of issues, primarily its nuclear program, it is not clear whether that nation's civilian government could deliver its end of any bargain, especially if it entailed turning over al Qaeda leaders.
"Iran will continue to pursue an asymmetric strategy in which they court Western acceptance, while maintaining their surrogate leadership roles within the Islamic extremist community," a U.S. intelligence analysis says.
Similarly, Saudi Arabia, which in recent years has tried to thaw relations with its larger and more powerful neighbor across the Persian Gulf, is trying, unsuccessfully, to persuade Iran to extradite Saad bin Laden and others suspected in the Riyadh bombing. Saudi officials estimate there are as many as 400 al Qaeda members there.
"Those people are in Iran and somebody must be helping them. The question is who?" Prince Bandar bin Sultan, the Saudi ambassador, told the San Francisco Chronicle last month. "This is the problem with Iran. The people who we can deal with can't deliver, they can't lead eight ducks across the street. And the guys who can deliver, they're not interested."
As a child, Saad bin Laden was at his father's side in Afghanistan in the mid-1980s when Osama bin Laden formed the al Qaeda network. The younger bin Laden was groomed to take a leadership role in the terrorism organization. He is fluent in English and is computer-literate, two qualities rare among al Qaeda leaders and assets that have enhanced his importance beyond his family name.
Yet Saad has only recently emerged as an important target for the CIA, FBI and other organizations trying to disrupt the terrorist network. It has only been since his arrival in Iran in the past year that he has assumed a more active role in directing al Qaeda, and that he has been identified as a senior leader. Before that, analysts said, he often sat with his father in leadership meetings but seldom spoke and was not given a voice in deliberations.
Many experts believe, for example, that he also had direct involvement in coordinating a series of bombings on May 16 that killed 45 people in Casablanca, Morocco.
Kenneth Katzman, a terrorism analyst for the Congressional Research Service, said Saad "is touted as his father's stand-in. Because his father is incommunicado, a lot of people are looking to Saad to give them direct instructions."
While there is broad agreement that Saad bin Laden's role within al Qaeda has grown increasingly important in the past six months, not everyone agrees he is now a senior operational commander. One U.S. intelligence official said Saad is "more of a player than most of the offspring, but not that significant." Osama Bin Laden has more than two dozen children with five wives.
But European intelligence officials and independent analysts said Saad bin Laden, while not the most important al Qaeda leader, is helping to make key operational decisions and is an important part of al Qaeda's logistical network. Some analysts believe he was very close to Khalid Sheik Mohammed, the mastermind of the Sept. 11, 2001, attacks, who was captured in March.
"Saad is capable of mounting operations against the West because he knows the West very well," said Rohan Gunaratna, director of terrorism research at the Institute of Defense and Strategic Studies in Singapore. "Saad has been very close to his father, almost functioning as his bodyguard."
Saad bin Laden is one of the eldest sons of bin Laden and his first wife, Najwa Ghanem, a Syrian who is also the terrorist leader's first cousin. The couple had 11 children, but Osama bin Laden has taken at least four other wives and divorced one, according to biographies in the Arab media and U.S. officials. Islam allows men to take as many as four wives at one time.
Born in Saudi Arabia, Saad bin Laden spent time with his father in Afghanistan during the war against the Soviet occupation. His father returned to Saudi Arabia in 1989, but left in 1991 to settle in Sudan. Again, Saad accompanied him. When bin Laden returned to Afghanistan in 1996, so did Saad.
According to one terrorism expert, Osama bin Laden was filmed in Afghanistan admonishing al Qaeda members not to expect their children to take leadership positions in the movement unless the children were willing to work hard for the cause. Bin Laden then singled out Saad for praise as a hard worker and said he was proud of his son.
Gunaratna said that an analysis of bin Laden's satellite telephone calls from 1996 to 1998 showed that more than 10 percent were placed to Iran, demonstrating the ongoing contacts with Iran during that time.
Officials said there is also evidence that another key liaison between the hard-line Iranian factions and al Qaeda is Imad Mugniyah, one of the world's most wanted terrorists.
Mugniyah, a Lebanese national and senior Hezbollah leader, is responsible for the kidnapping and murder of several Americans, as well as the hijacking of aircraft and the bombing of U.S. military barracks in Beirut in the 1980s, according to the FBI and CIA. Before Sept. 11, 2001, he was responsible for the deaths of more Americans than any other terrorist.
According to court testimony of former al Qaeda operatives, Mugniyah met bin Laden several times in Sudan in the mid-1990s and agreed to train al Qaeda combatants in the use of explosives and other techniques in exchange for weapons.
A description of Mugniyah's ongoing role was provided to authorities by a member of the Jerusalem Force who defected to Britain earlier this year. In a February interview with the London-based Saudi daily Al-Sarq al-Awsat, the defector said Mugniyah remained in Iran and had personally "planned the escape of dozens of al Qaeda men to Iran."
The defector, Hamid Zakiri, said Mugniyah served as "a liaison officer with Dr. Zawahiri and with commanders of other fundamentalist organizations."
Zakiri said that among those Mugniyah aided were bin Laden's youngest wife, Amal al-Saddah, and her infant child, whom he provided with safe passage from Afghanistan through Iran to her homeland of Yemen as the U.S. bombing of Afghanistan began.
European intelligence sources said that much of Zakiri's information had been verified.