Shenzhou V to fly Wednesday at earliest
( 2003-10-14 11:31) (chinadaily.com.cn)
China's self-designed manned spaceship, the Shenzhou 5 (Divine Vessel V), completed its last launch test flight Monday morning, and is now sitting on the launch pad with more fuel being injected.
It is scheduled to blast off into orbit at a time between October 15-17. A source told chinadaily.com.cn that Shenzhou 5 will most probably take off in the morning of October 15. China's top leaders including President Hu Jintao and chairman of the Central Military Commission Jiang Zemin are expected to watch the flight at the Jiuquan Satellite Launch Centre, in northwest China's Gansu Province.
On Tuesday, the sole astronaut for China's first manned space bid will be selected from a final pool of three candidates, Chinese newspapers said. The spaceship will be sent into orbit by the Long March series rocket, also developed by Chinese scientists. The mission is meant to orbit the earth 14 times in 23 hours before returning.
CCTV Drops Live Telecast
China's national television station, CCTV, announced on Tuesday that it will not conduct the live broadcast of the event, as previously planned, which has drawn fierce debate and criticism from Chinese readers at the Internet chatrooms. A reader complained that he had a day off on Wednesday in order to watch the live telecast of the launch.
The Lanzhou Morning Press reported on Tuesday that CCTV decided to drop the live telecast after space experts suggested it do so. CCTV promised to recast the whole event at Jiuquan following the launch.
Launch Time Still A Mystery
Space launch timing is like a chess match? Timing for China's first manned spaceship flight will be decided in line with conditions in orbit, the craft's needs for orbital movements and working conditions and requirements for ground monitoring and control, a Chinese expert said on Monday.
Zhou Jianping, chief designer of China's spaceship launch center system in Jiuquan said a mathematical model has been constructed with relevant data after a series of "careful calculations.''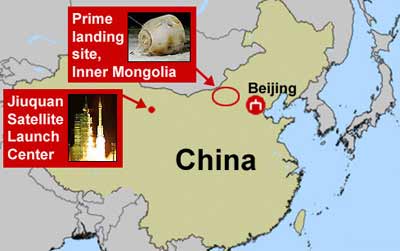 China has cautiously announced a "Projection Window'' regarding the timing for the launch of its first manned space vehicle into the orbit, saying only that it will occur sometime between October 15-17.
While officials have kept details close to the vest, they have indicated some conditions are critical to the launch decision. First the spacecraft should be positioned in orbit with its solar panels facing the sun to ensure adequate energy supply to the vehicle during free flight.
Second, an optimum angle must be selected to prevent direct irradiation from the sun of the three infrared sensors that are used to measure the earth, while a standard temperature is maintained within the capsule.
"It is very difficult to satisfy all these requirements simultaneously when the ship flies into orbit,'' Zhou explained. "The room is very small for choosing the 'window' since climatic conditions vary in different seasons,'' he said.
Goal: Exploring Outer Space
Gu Yidong, director-general and chief designer of the space application system under China's manned space flight program, said that the manned space program's ultimate goal for China was to explore outer space and make a good use of the rich resources of space.
"With the further development of space technologies, outer space application will turn out to be an important driving force for China's economic and social development," Gu said.
Gu, who is also director of the Space Science and Application Research Center under the Chinese Academy of Sciences, said the universe was abundant with energy and resources, while mankind, on its way to self-improvement and development, must constantly seek new channels to acquire more resources.
Since the 1970s, many countries have conducted a series of experiments in space and achieved major breakthroughs in the research of key space technologies. A comprehensive satellite system, offering services in fields like telecommunications, navigation, meteorology and outer space exploration, has been established.
Gu pointed out that the United States had led the world in turning space research results into industrial technologies. These technologies, developed, tested and perfected through the US space programs, had been applied in US industries and helped bring some 2 trillion US dollars in economic returns for the country.
It is expected that America's investment in its space industry will reach 500 billion to 600 billion US dollars by the year 2010. Since 1975, China has successfully launched 17 recoverable satellites. When those satellites orbited the Earth, not only a variety of space engineering experiments, but also experiments in other areas like agriculture, life sciences and space materials, were smoothly conducted.
As the world's most populous nation with a population of 1.2 billion, China relies heavily on its agricultural sector. As early as 1987, China's recoverable satellites started to carry plant seeds into orbit in a bid to breed new seed varieties with higher yields and better quality.
Gu also described outer space as an ideal industrial base, as the universe was very clean and almost without gravity.
The United States and Russia have both set up workshops in their space stations or spaceships. Products like semiconductors, optical glass, pottery and a variety of alloys have been produced in space.
The United States was capable of producing dozens of products in space, while Russia had conducted 14,500 experiments in space, Gu said.
In order to be able to share space resources with other countries as soon as possible, China was vigorously developing its manned space program, said Gu, adding that sending a man into the space was just the "first step" for China's ambitious space program.
"The second phase of our program involves more advanced technologies such as space rendezvous and docking, and will also include the establishment of an outer space laboratory system," he said.