Egyptian twins successfully separated in Dallas
( 2003-10-13 09:16) (Agencies)
Doctors in Dallas successfully separated 2-year-old Egyptian twins joined at the crown of their heads on Sunday, giving them a chance at independent lives after a smooth, two-day surgery involving 18 doctors.
Ahmed and Mohamed Ibrahim were separated at Children's Medical Center of Dallas about 27 hours after the surgery started and were in stable condition, bringing relief to a medical team that had prepared for more than a year for the intricate operation.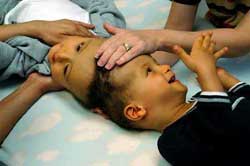 Doctors separated 2-year-old Egyptian twins joined at the crown of their heads on October 12, 2003, giving them independent lives in a medical procedure. The twins are comforted by relatives during a recent visit at Children's Hospital in Dallas, Texas. [Reuters]

When news of the separation reached the parents, the boys' father jumped for joy and fainted, while their mother wept with joy, an Egyptian doctor who came from Cairo to be with the family told a press conference.

They will remain in a medically induced coma for several days as they begin the crucial post-operative period. It will be the first time they have slept apart from each other.

"At this point, their vital signs are stable and we don't see any signs that there have been any medical problems," said Dr. Kenneth Shapiro, one of five neurosurgeons in a medical team of about 60 members.

During surgery the boys did not suffer major blood loss. They had no pulmonary problems and no significant or unexpected swelling in either of their brains, doctors said, adding it was too early to tell if the boys had suffered brain damage.

Doctors are on the alert for improper drainage of blood from the brains of the boys' newly separated venous systems, leakage of spinal fluids, blood clots and infection.

Neurosurgeons completed the most difficult and dangerous part of the operation on Sunday morning -- separating the shared brain material and the shared circulatory systems that feed blood to their brains.

INDEPENDENT LIVES

The surgery was the first such procedure since twin Iranian women joined at the head died in July at a Singapore hospital from blood loss and other complications arising from the neurosurgical stage of their operation.

Doctors said if the boys were not separated, they would likely never walk without help and face a lifetime of medical problems.

The estimated $2 million cost of the surgery was expected to be paid for by charity.

Cranial and facial surgeons finished the operation by repairing damage to their skulls, using tissue from an area around their thighs that had been expanded by balloon-like devices months before surgery.

Even with the separation, they still face years of reconstructive surgery to repair the places where their skulls had been fused together, doctors said.

The boys have spent almost all of their lives on their backs, leaving the back of their skulls flat.

Medical ethicists reviewed the boys' case before surgery and concluded that the prospects for a successful separation offered benefits that outweighed the certain and progressive loss of functions the twins would face if they remained conjoined.

The boys cannot stand on their own because of the way they are joined. They are more than 6 feet long from the toes of one twin to the toes of the other.

They have been in Dallas for more than a year preparing for the surgery and likely will remain in the city for several months.

Ahmed and Mohamed were born in a town 500 miles south of Cairo on June 2, 2001. The boys are healthy, alert, playful, and are starting to learn a few words.

Conjoined twins at the head account for about one of every 2.5 million births and about 2 percent of all conjoined births.