City blushes over sex museum
( 2003-10-13 08:58) (eastday.com)
Shanghai residents are just not interested in sliding between the sheets. Or at least it appears that way with China's only sex museum preparing to close and leave the city next April due to limited funding and little community support.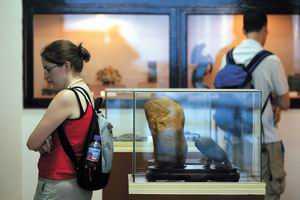 Professor Liu Dalin is irritated -- his Ancient Chinese Sex Culture Museum is leaving Shanghai early next year.
It's not that the lugubrious Liu wants to move the museum, it's just that not enough revenue is being generated to cover costs. The sex historian has little choice. ``It is a big regret to leave Shanghai, but we are desperate for the financial help,'' says the 71-year-old Liu, a retired sociological professor of Shanghai University. Nestled in an office building on Wuding Road downtown, the museum receives an average of only 30 visitors each day -- among which 70 percent from overseas -- far below what is needed to pay the monthly 32,000-yuan (US$3,855) rent and other expenses.
The lack of promotional funds have made nearly 3,700 items related to Chinese sex culture sit, for the most part, quietly ignored. While Shanghai loses a unique attraction, Tongli, a canal town in neighboring Jiangsu Province, benefits from the move. The Ancient Chinese Sex Culture Museum will have a bigger and better home there. The move is a pity. Consider this: Earlier this year, the Shanghai government announced an ambitious plan to increase the number of museums from the current 64 to 100 in the city by the end of 2005.
Relocating museums to other cities is obviously not part of the plan. The privately run sex museum opened in a farm house in Xujin, Minhang district in 1995. Liu, a noted author of 80 books on love, marriage and sex, later moved the display to a location along the bustling Nanjing Road Pedestrian Mall in 1999. Its success was hindered after he was prohibited from hanging a poster using the word ``sex.'' The exhibit moved to its current venue, near Jing'an Temple, two years ago.
Liu never expected the plight he has confronted -- all due to opening an intelligent and educational resource about one of humanity's basic instincts. He requires a minimal revenue of 50,000 yuan per month to maintain the museum, but only takes in about 20,000 yuan now. Plus, the city government only supports and subsidizes official museums. ``I felt the burden on my shoulders released at long last when the Tongli government promised to provide a free venue for us,'' he says.
``I've wasted too much energy and time on the rental fees.'' His sex museum will move to the canal town's Lize Girl's School, about 80 kilometers from Shanghai, and the Tongli government will cover the renovation fee of 2 million yuan. Admission will be 10 yuan to 15 yuan, about half of the current price, according to Liu. The profits will be shared by the professor and the Tongli government. The sex museum, much like conceiving a child, is largely due to fate.
Prior to opening the museum in 1995, Liu was doing research on the sex life of Chinese families. By chance he purchased several antique items related to sex culture. Liu says it was then that he realized the ``precious academic and historical value'' of the items. Opening a sex museum was an obvious way forward. Soon he began expanding his collection, which spans 6,000 years.
Many of the items have long been scattered across the country in the homes of families. Instead of hunting in antique shops, Liu has adopted a different method that has worked exceptionally well. He befriends antique dealers and asks them to save sex-related items. After checking them, he then makes the purchase. Spending a huge portion of his personal savings, Liu's vast collection includes stone or jade sculptures, carvings, paintings, furniture, clothes and shoes. One of his collections, scrolls given from a mother to a daughter on her wedding day, for instance, reveal couples in various sexual positions.
Illustrating more than just technical information, it also demonstrates how families once communicated. It's easy to feel the intimacy of the special occasion. The collection isn't restricted to the country either. Several artifacts are from Europe, Africa and other Asian countries. ``Some may think that Chinese people always retain a quite reserved attitude toward sex,'' Liu says, ``but the pieces displayed here reveal otherwise.
I am trying to transform the Western stereotype of Chinese as people who are illiterate about sex. That's why I hope many more locals could visit the museum to acquire a natural, healthy and scientific sex life.'' While Liu prepares to pack things up, there are those disappointed with the government's lack of support. ``It is a shame for Liu's sex museum to leave the city,'' says Xu Anqi, a sociologist at Fudan University.
``Sometimes the city's administrative department is too conservative. Sex is not a dirty thing. Why should it be hidden in an unheeded corner?'' She also points out that there are a number of successful sex museums in other parts of the world. Each provides sex education to the public. She believes if the public held a more open attitude toward sex, education would be easier. This includes information on how to prevent the spread of AIDS.
Yet locals remain flaccid. ``I won't go to this museum,'' says Jimmy Zhang, a white-collar worker in his 30s. ``It isn't a matter of concept, since one can find them in all sorts of media, like video or Internet. I just think that sex is still very private and personal, and unsuitable to be shown in public.'' While Liu's sex museum has received the equivalent of an icy stare of a woman not interested in Shanghai, his collection has been greeted with lust in overseas such as Hong Kong, Taiwan, Berlin and Melbourne.
Liu has been approached by companies eager to associate their products with the sex museum. He's not interested in selling out however. ``True, we do need money for support, but we don't want to trade in our image,'' he says. That's why Liu chose Tongli as the museum's last resort. ``The place is rich in culture and history,'' he says. ``And most important of all, it is a scenic spot that draws tourists from both home and abroad.''
The curator is confident for the future of his sex museum. ``We are planning to build up a garden in front of the museum where large-sized sculptures can be displayed,'' he says. ``I'm sure that this will be a world-class sex museum.'' It's just too bad that Shanghai's libido isn't strong enough to keep it.
Opening hours: 10 am-6 pm
Address: 1133 Wuding Rd.
Admission: 30 yuan