Journalists need ethical check-up
( 2003-10-09 08:55) (China Daily)
The Fanshi cover-up case seems to be touching off a thorough and badly needed look into the professional ethics and standards of Chinese journalism.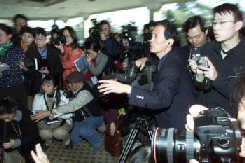 The massive cover-up of a deadly accident in Shanxi Province shocked the public. The public outcry since surged with waves of criticism aimed at corrupt journalists. [newsphoto.com.cn/file]
On September 15, the Xinhua News Agency published the results of a year-long investigation into the Fanshi gold mine explosion accident in Shanxi Province. The incident killed 39 people and was followed by a massive cover-up, shocking the public when it was discovered that 11 journalists were found to have taken bribes to stay silent about the seriousness of the deadly disaster.
Xinhua, however, stopped short of giving the names of the journalists involved, or their working units.
The public outcry since surged with waves of criticism aimed at corrupt journalists. At the same time, there has been a strong outcry for details of the media scandal.
The news agency, on September 26, released the names the journalists and the various media to which they belonged: Four were with Xinhua's Shanxi branch, and seven were with three local Shanxi newspapers. Combined, they took bribes totalling 74,600 yuan (US$8,987) in cash and gold.
A closer look into the corruption case exposes defects in the current management systems with journalism, especially in small local newsrooms.
Among the 11 journalists, several worked concurrently for their papers' advertising and circulation departments. Business operations constituted the core of their work, while reporting activities were a sideline, or even were perceived as a tool for acquiring material gain.
A senior journalist with the provincial TV station in Shanxi said in case of accident scenes with injured parties, journalists of that stripe would rush to the locations, not for reporting the truth, but for negotiating a price with the relevant parties to "seal their mouths."
The situation in Shanxi is reprehensible, and sadly representative of the general situation in many other places. Unprofessional journalists by no means exist in small numbers.
For those who use a reporter's title as a passport to personal gain, it is impossible to stick to truth and objectivity, which ought to be the lifeblood of journalism.
To ensure clean and ethical journalism for China, stricter standards and effective leadership and management are prerequisites.