Northern neighbours knock on ASEAN door
( 2003-10-09 01:29) (China Daily)
The Association of Southeast Asian Nations (ASEAN) wants Japan and the Republic of Korea (ROK) to follow the lead of China and India and accede to the Treaty of Amity and Co-operation (TAC), said Indonesian President Megawati Sukarnoputri yesterday.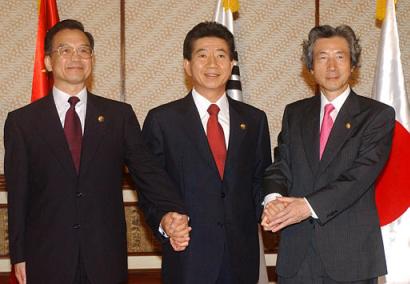 South Korean President Roh Moo-hyun, center, holds hands with Chinese Premier Wen Jiabao, left, and Japanese Prime Minister Junichro Koizumi, right, prior to a tri-lateral summit talk, at the Hyatt Hotel in Bali Island, Indonesia, Tuesday, Oct. 7, 2003. They came here to attend the 9th Asean Summit plus three (Japan, South Korea and China) meeting. [AP]

Megawati, also ASEAN chairperson, said the association believes accession to the treaty would enhance the two countries' co-operation and partnership with the group.

ASEAN yesterday held so-called 10--1 meetings with China, Japan and the ROK as well as a summit with India.

The association signed a Framework for Comprehensive Economic Partnership with Japan, which aims to minimize barriers and deepen economic linkages between the two.

It intends to lower business costs, increase intra-regional trade and investment, and create a larger market and economies of scale for businesses in ASEAN and Japan to attract more capital and expertise.

In a meeting with ROK President Roh Moo-hyun, ASEAN leaders discussed the situation on the Korean Peninsula.

"We hope the next talks (on the nuclear issue facing the Korean Peninsula) will be held soon to maintain the momentum for dialogue,'' said Megawati.

Japan and the ROK plan to set up a Free Trade Area with the 10-member group, which consists of Brunei, Cambodia, Indonesia, Laos, Malaysia, Myanmar, the Philippines, Singapore, Thailand and Viet Nam.

A meeting between ASEAN leaders and Indian Prime Minister Atal Behari Vajpayee also gave rise to a productive discussion on regional and international political and economic issues.

They expressed satisfaction at the rapid development of ASEAN-Indian relations over the two-year period India has been a dialogue partner of the group, said Megawati.

The two sides also signed a Framework Agreement on Comprehensive Economic Co-operation, which will strengthen their economic, trade and investment relations, according to Megawati.

ASEAN and India have also agreed to co-operate more in fighting terrorism. They adopted the Joint Declaration for Co-operation to Combat International Terrorism.

At the ninth Summit held on Tuesday in Bali, leaders of the association pledged to create an ASEAN Community by the year 2020 based on the Security Community, Economic Community and Socio-cultural Community concepts outlined in the Declaration of Bali Concord II.