Natural disasters claim 1,911 lives this year
( 2003-10-09 01:29) (China Daily)
Vice-Minister of Civil Affairs Yang Yanyin said yesterday that natural disasters this year have killed 1,911 people across the country and caused direct economic losses of 151.4 billion yuan (US$18.3 billion).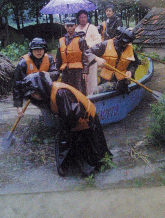 Chinese soldiers help local residents evacuate flooded areas in Xuyi in East China's Jiangsu Province, July 10, 2003. [newsphoto.com.cn]

The country has encountered a series of serious natural disasters this year, with one of the most recent being the flooding of the Huaihe River during late June and early July.

That was the most serious flooding of the river since 1954, and caused great damage in East China's Jiangsu and Anhui provinces and Central China's Henan Province.

More than 50 million hectares of farmland have been affected by all sorts of natural disasters across the country, as well as the collapsing of 2.6 million houses and the evacuation of 6.3 million people.

The central government has so far allocated more than 2.8 billion yuan (US$339 million) for disaster relief work, according to Yang.

Disaster relief work carried out by all relevant departments has helped limit casualties as much as possible, Yang said.

For example, in 1991, 7,300 people were killed by flooding calamities, while this year 1,208 lives were claimed by similar disasters. Flooding this year is considered more serious than that in 1991.

Yang said efforts will be further made to ensure that disaster victims have access to food, housing and clothing as the winter is approaching.

The central government has allocated 800 million yuan (US$97 million) in rebuilding the houses of victims, and the Ministry of Civil Affairs will send inspectors to see whether the fund has been well-used, she said.

In addition, the administration will continue to encourage private donations. A campaign to collect donations of quilts and heavy coats will soon be carried out, Yang said.

In another development, the number of urban residents receiving basic living and subsistence allowances has reached 21.8 million by the end of August, which is 1.18 million more than that at the end of last year, Yang said.

In the first eight months of the year, more than 9.5 billion yuan (US$1.14 billion) were used as such allowances to residents who are living below the minimum subsistence levels.

Meanwhile, more than 22.8 million rural residents have benefited from assistance and allowances, she said.