ASEAN leaders endorse free trade bloc
( 2003-10-07 14:22) (Agencies)
Southeast Asian leaders Tuesday endorsed a plan to transform the region into a giant free trade zone by 2020, with several urging a faster pace if they are to keep up with the rest of the world.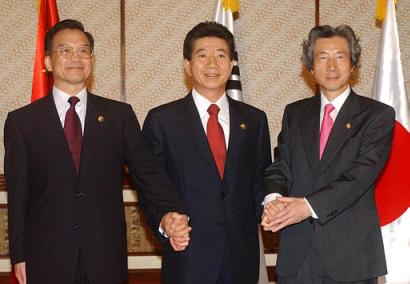 South Korean President Roh Moo-hyun, center, holds hands with Chinese Premier Wen Jiabao, left, and Japanese Prime Minister Junichro Koizumi, right, prior to a tri-lateral summit talk, at the Hyatt Hotel in Bali Island, Indonesia, Tuesday, Oct. 7, 2003. They came here to attend the 9th Asean Summit plus three (Japan, South Korea and China) meeting. [AP]

Leaders of the 10-member Association of South East Nations (ASEAN) also looked set at their annual summit to avoid criticism of fellow member Myanmar after the junta moved democracy icon Aung San Suu Kyi into house arrest from detention.

Security was tight on Indonesia's bomb-scarred tropical island of Bali. Troops were deployed and 13 naval vessels sailed offshore to protect leaders of ASEAN, to be joined by China, Japan and South Korea and India at their two-day meeting to agree on plans to create a single market.

"If we join forces, Korea and ASEAN members and by extension, all of East Asia, will become the engine of growth for the world economy, and the 21st century will be the age of East Asia," South Korean President Roh Moo-hyun told business leaders.

The urgency for the trading bloc has been highlighted by the failure of world trade talks in Cancun. ASEAN's relatively small economies want more influence to compete with China and at the same time are working to set up a free trade zone with their giant northern neighbor.

Chinese Premier Wen Jiabao tackled those worries head-on.

"My answer is that a more developed and stronger China will bring about development opportunities and tangible benefits to other Asian countries," he told the business leaders.

"China's development will bring tremendous immediate and long-term benefits to Asian countries. It provides a huge market for Asian countries," he said, adding that China would encourage its companies to invest in other Asian countries.

WIN-WIN FOR CHINA, ASEAN

The group is working on free trade agreements to be completed with China in 2010, India in 2011 and Japan in 2012 and is considering advancing the 2020 deadline, ASEAN Secretary-General Ong Keng Yong said at the weekend.

"The China-ASEAN Free Trade Area is a win-win arrangement," Wen said.

He said by 2010 the world could see a free trade area with nearly two billion people and total gross domestic product of almost $3.0 trillion taking shape in Asia.

Several leaders urged advancing the deadline for creating the ASEAN Economic Community that was endorsed as part of the Bali Concord II, warning that ASEAN's economies risk being left behind.

"The ASEAN Economic Community is the realization of the end-goal of economic integration as outlined in ASEAN Vision 2020," said the Bali Concord II.

"Seventeen years from now might be too late," Thai Prime Minister Thaksin Shinawatra said Monday of the goal to cut tariff and non-tariff barriers to trade in a region with 500 million people and annual trade worth $720 billion.

FOCUS ON SPEED, IMPLEMENTATION

Singapore Prime Minster Goh Chok Tong, a leading advocate of the free trade bloc, poured cold water on high expectations for quick progress by a group that has frequently adopted such plans and failed to follow through. He urged proper implementation.

ASEAN has long been viewed as a talking shop that stresses consensus over confrontation among members ranging from nascent democracies to monarchies and a military dictatorship that can be reluctant or unable to follow through on agreed initiatives.

The focus of this summit is on nurturing the economic growth of a region rocked in the past few years by a financial crisis, terror attacks and the SARS (news - web sites) virus but attention has been paid to the need to ensure security by fighting terrorism.

The final communique underscored the thrust to accelerate economic integration. ASEAN ministers are recommending 11 key economic sectors for accelerated integration by 2010 rather than 2020.

The group must aim for a single production base and single market with free movement of goods, services and capital, Goh said Monday.

"This is the only way to make sure we remain competitive in the face of growing regional and bilateral free trade agreements, post-Cancun," he said, referring to the failed world trade talks.

A report ASEAN commissioned from business consultants McKinsey highlighted lack of integration, non-tariff barriers and disparate policies that favor competitiveness of single nations at the expense of the group as among problems the bloc must face.

ASEAN comprises Brunei, Cambodia, Laos, Vietnam, Indonesia, the Philippines, Singapore, Myanmar, Malaysia and Thailand.