Holiday sales are making up for SARS
( 2003-10-04 10:33) (Eastday.com)
Shanghai retailers are expecting the on-going National Day holiday will help them recoup huge losses racked up during the May weeklong holiday, which was all but scrapped due to the outbreak of SARS.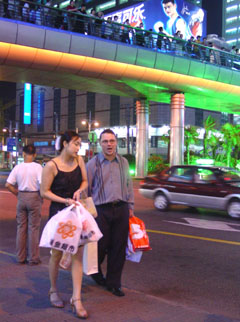 The more than 3,000 outlets of the city's 261 major retailers saw sales rise by 18.3 percent to reach 1.8 billion yuan (US$216 million) during the last six days, the Shanghai Economic Commission reported yesterday.
They posted sales of 963 million yuan from Wednesday to yesterday, up 18.3 percent year-on-year.
"This time, city retailers are gearing up, arranging special promotions, adjusting commodity structures and improving shopping environments to attract customers as they expect a shopping spree after the sales doldrums during the last weeklong holiday," said Chen Yuxian, a commission official.
"The out-of-town travelers, huge number of weddings and the World Carnival in Pudong will also fuel the retail boom," the commission official added.
Nanjing road Pedestrian Mall fulfilled its status as China's premier shopping street as retailers on the street generated sales of 98.5 million yuan during the first three days of the holiday, up 9 percent from last year.
"Sales are very satisfactory during the three days, which is in line with our expectations," said Qian Suyang with the East Wing of Shanghai No 1 Department Store. "We promote autumn or winter garments like leather and woolen coats, which are very popular among tourists from the colder northern region."
On nanjing Road W., Westgate Mall, Citic Square and Plaza 66 saw sales jump by about 35 percent, fueled by pro-motions such as car shows.
As many top international brands have opened flagship stores on Huaihuai Road M. during the past year, sales on the street jumped by 30.5 percent from a year ago during the three days.
Sales at Xujiahui rose by 14.8 percent to hit 67.5 million yuan during the three days.
According to the Shanghai branch of the Bank of China, one of its automatic teller machines located at the Grand Gateway Plaza in Xujiahui area gave out 1 million yuan on Wednesday. While on an average day, it dispenses 600,000 yuan.
The city's 33 major supermarkets, hypermarkets and convenience operators garnered sales of 537 million yuan in the three days, up 18.5 percent year-on-year.
The 53 major department stores around the city said their sales rose by 15.7 percent to hit 251 million yuan.