Thursday sees 2.3 million travel
( 2003-10-03 09:09) (China Daily)
Around 2.3 million people travelled yesterday on the second day of the week-long National Day holiday, said sources with the China National Tourism Administration.
The number of tourists was up 3.6 per cent compared to the figure for the same day last year.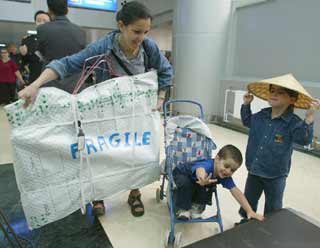 A foreign passenger going on a train travelling direct from Beijing to Hong Kong prepares for a security check on her luggage at Beijing West Railway Station November 2, 2003.[newsphoto.com.cn]


However, one analyst said Chinese tourists have been wise enough to avoid swarming any one scenic spot.

This so-called golden week will play a role in boosting the recovery of domestic tourism and help China establish a reputation as a healthy and safe country to visit, said the tourism sources.

Xinhua News Agency said a survey conducted on Wednesday by the Chinese tourism website Xiecheng showed that 84 per cent of those surveyed said they planned to travel during the holiday.

The survey of 1,000 people around China showed that 56.8 per cent thought health and safety were important, favoured short trips and preferred to visit friends and relatives and exercise during the holiday.

Of those surveyed, 47.66 per cent said they would rather travel after or before the holiday and 31 per cent said they preferred to drive themselves.

The survey concluded that a majority of people put health in first place during the holiday.

China's tourist industry was hard hit by the epidemic of severe acute respiratory syndrome but started to experience a gradual recovery in August. This has resulted in growth for eco-tourism, health-based tourism, small-group tourism and self-drive tourism.

Yesterday morning, traffic jams forced a snake of cars, lorries and luxury buses with overseas tourists to wait at the northern part of the Fourth Ring Road to join the expressway to the Badaling section of the Great Wall.

Experts said that of China's three week-long holidays, the National Day vacation is not the most popular with foreign tourists. However, some overseas Chinese and tourists from Japan and the Republic of Korea still prefer to visit China after the Mid-Autumn Festival, which is traditionally a time for family reunions.

Makiko Kiyomizu said she became familiar with autumn in China at an early age from ancient Chinese poems.

Kiyomizu is just one example among many Japanese tourists. For many years, Japan ranked first in terms of the country of origin of tourists coming to China. The number of Japanese tourists came to a sudden halt with the SARS (severe acute respiratory syndrome) outbreak in spring but has begun to rebound quickly.

An official with the National Tourism Administration said the National Day holiday mainly focuses on domestic tourism but China's inbound tourism will recover with the new season.