One wild, wonderful week
( 2003-10-02 09:10) (China Daily)
The week-long National Day holiday which started yesterday has become both an occasion for celebrating the birth of the country and a time for people to relax, reunite -- or tie the marriage knot.
Of all the activities being held across the country to celebrate the 54th anniversary of the People's Republic of China, flag-raising ceremonies on National Day are the most precious.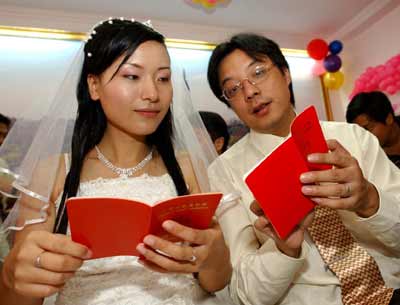 A couple look at their marriage certificate after registration October 1, 2003 in Hangzhou, East China's Zhejiang Province. [newsphoto.com.cn]
Yesterday morning's grand flag-raising in Beijing's Tian'anmen Square attracted more than 250,000 onlookers.Throughout the week capital city itself has been transformed into a multi-coloured beacon of light, with spectacular outdoor illuminations.
Starting from yesterday, Beijing will no longer designate accommodation for overseas visitors, as had been the practice for the past half century.
Beijing police say foreigners can now choose where to live in the city, including households on the old "hutongs"(lanes), but they are not allowed to stay in non-open areas or military forbidden zones.
Hotels, hostels and inns in Beijing that have acquired business licenses are able to receive overseas guests from now on.
Across the country, many people are travelling. In South China's Guangzhou, scores of tourist groups set off on Tuesday afternoon from the railway station in the provincial capital of Guangdong, marking the first wave of the Golden Week travel craze.
According to the ticket office, 74,000 people left Guangzhou by train, twice as many as the normal daily volume. Yesterday, the station was expected to handle a record high of about 90,000 passengers.
For all the major railway stations from across the country, management organizations have added extra trains and additional carriages in order to expand their capacities.
To avoid traffic congestion, many travellers got an early start.
He Hong, a 30-year-old businessman from Southwest China's Sichuan Province, finished his three-day trip to Beijing yesterday.
"I just hope to avoid peak traffic when the Golden Week ends,'' he said before departing for home.
Cross-boundary public transport services have been beefed up in anticipation of a surge in the number of visitors to and from the Chinese mainland during the holiday week. Coach, shuttle bus and rail services will all be increased, Xinhua quoted a Hong Kong Transport Department spokesman on Tuesday.
He said the Kowloon-Canton Railway Corporation (KCRC)'s East Rail between Hong Kong, Shenzhen and Lo Wu will increase to a maximum of 14 trains per hour in each direction during Golden Week, boosting handling capacity to 52,500 passengers per hour. Currently, KCRC operates 10-11 trains to Lo Wu per hour, carrying 37,500 to 41,250 passengers.
Experts predict this year's Golden Week will likely see tourism peak and fuel China's economic growth.
Golden Week has been promoting tourism, business, transportation and related sectors in China since it was initiated in 1999, as increasing numbers of people choose to travel during the holiday and total revenues for the tourism industry have steadily increased.
Insiders estimated that the revenue for this holiday season is likely to exceed the 25.7 billion (US$3.1 billion) of the Spring Festival Golden Week earlier this year, which attracted 59.47 million tourists.
Chinese consumers' long-restrained spending due to the SARS-inspired cancellation of the May Day holiday, will be expanded this holiday season, tourism experts predicted.
A recent survey conducted by the tourism website, "Xiecheng'' revealed that 80 per cent of respondents planned travel during the National Day holiday.
The Golden Week has also become a popular time for couples to get married.
A man named Li, who has worked for almost three years in North China's Tianjin Municipality, is trying to deal with five wedding invitations from friends and former classmates.
It means that not only will his holiday schedule be very tight for those wedding ceremonies, but also he will be strapped for cash for a while as each invitation means one "red package'' -- a gift money.
Li is by no means an exception. October in China, especially during the Golden Week, has long been regarded as the season for weddings.
All wedding ceremony promotion companies in Tianjin are doing booming business. Their cars have been rented and tables in luxurious restaurants are almost all booked.
Statistics show most local residents picked September 27 and 28, October 2 and 6 as the most auspicious days for getting married, in line with the traditional Chinese calendar.